More State Funding Sought for Seniors' Needs, Tobacco Control in Budget
By Jade Perez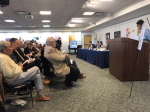 Community members and representatives of various organizations urged the area's state senators to increase funding for senior care and tobacco control along with improving state roads during a public hearing last Friday afternoon.
Westchester's state Senate delegation listened to two hours of comments on Gov. Andrew Cuomo's proposed 2019-20 executive budget at the Greenburgh Public Library.
Jacob Reckess, a member of the Empire State Association of Assisted Living's Board of Directors, said there are more than 1,500 Supplemental Security Income (SSI) recipients in the senators' districts in Westchester and there hasn't been an increase in 12 years. SSI is a needs-based program that provides monthly benefits to people with limited income and resources who are disabled, blind or at least 65 years old.
"There's a recognition that this is a problem. So I ask you to continue the fight and get the message across," Reckess said.
Beth Finkel, the state director of AARP New York, asked that the governor's proposed $15 million investment in home and community-based services be increased to $25 million to keep pace with need. As the population ages, there are fewer people available to care for the growing number of frail and elderly people. Finkel said there are 2.6 million caregivers in New York contributing $32 billion of free care to family members.
"If you had to go pay for that in the open market…those people would have to go into institutional care, which we all know how much more that costs," Finkel said. "So we need to get more money into those services that can provide meals, transportation, etc."
Elizabeth Hamlin-Berninger, the director of advocacy for the American Lung Association in New York, called for an increase in funding for tobacco control, which aims to help people stop smoking and raise awareness of the e-cigarette problem.
"The CDC recommends that the New York Tobacco Control program be funded at $203 million, and current state funding is only $39,000," Hamlin-Berninger said. "New York brings in about $2 billion of tobacco-taxed money and the MSA master settlement agreement money and we're not really sure where that money's going."
Hamlin-Berninger also expressed concern that the U.S. Surgeon General called e-cigarette smoking an epidemic. Citing data from a National Youth Tobacco Survey that appears on the Food & Drug Administration's website, e-cigarette use among high school students increased by 78 percent from 2017 to 2018. Most of those kids will go on to smoke regular cigarettes, she said.
Abe Baker-Butler, a 16-year-old high school student who is vice president of the Westchester County Youth Board and Director of the Legislative Advocacy and Expansion for Students Against Nicotine, also called for more resources to combat teen cigarette and e-cigarette use.
Although the governor announced his intention to increase the legal age for buying tobacco and e-cigarette products from 18 to 21 in the state budget, Baker-Butler said that the age restriction is just part of the solution.
Baker-Butler noted that JUUL use has risen alarmingly because of its appealing flavors to teenagers. More than 37 percent of high school seniors used e-cigarettes in 2018, he said.
"These cigarettes can result in severe lung cancer, decreased immunity, inhibited brain development and popcorn lung," Baker-Butler said. "For the sake of our youth, we must take action to increase funding for preventive education, restrict flavors and regulate e-cigarettes."
Greenburgh Supervisor Paul Feiner pushed for the state to make an investment to improve its roads. He showed recent photos of roads with large potholes, which drivers have had to cross onto the wrong side of the road to avoid, he said.
Feiner called the situation "dangerous and life-threatening."
"The last time a (state) road in Greenburgh was repaved was four years ago and that's really unconscionable," Feiner said. "I'm not here to ask for more funding for the town, cities or for villages, but I'm saying maintain the roads that are owned by New York State."
Last Friday's forum followed a similar one held by Westchester's Assembly members on Jan. 31. Sen. Shelley Mayer announced to a packed meeting room at the start that two hours would be devoted to public comments, which limited the number of speakers.
State lawmakers are expected to vote on the 2019-20 budget by the Mar. 31 deadline.