Monthly Beer-Paired Dinners Debut at Captain Lawrence
We are part of The Trust Project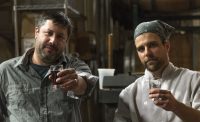 The Captain Lawrence Brewing Co. will conduct monthly beer-coupled, prix fixe dinners at its Elmsford facility this year.
Its first 2017 event is planned for this Thursday, Jan. 19, a joint venture with the Industrial Arts Brewing Co. of Haverstraw. The cost to attend is $75 per person, plus tax and gratuity.
Dinners on Feb. 14 (beer and wine pairing) and Mar. 16 (a beer and whiskey combination) have also been scheduled.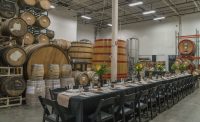 This week's program will pair six Captain Lawrence and six Industrial Arts ales with dishes locally sourced from the Hudson Valley and prepared in Chef Joseph Smith's kitchen. The meal will begin at 6:30 p.m. with a hand-passed chilled lobster and salad appetizer paired with a palate-cleansing brew. The evening's activities are expected to end by 10 p.m.
Next, attendees will sit down for five more courses to follow.
First course
Food: Pan seared sea scallop, Hudson Valley fois gras and apple brown butter.
Drink: Golden Delicious Apple Brandy Barrel Aged vs. State of the Art #54.
Second course
Food: Hudson Valley duck confit crepe with vanilla parsnip puree and spiced pear.
Drink: 6th Borough Pilsner vs. State of the Art #68.
Third course
Food: Pretzel crusted fluke with grain mustard Buerre Blanc, braised red onions and rissole potatoes.
Drink: To be determined.
Fourth course
Food: Braised beef short rib with toasted gnocchi, honey glaze turnip and carrots.
Drink: Poopy Pants Porter vs. Night School.
Fifth course
Food: Bittersweet chocolate cake with salted caramel, pecan tuile and vanilla gelato.
Drink: Frost Monster Imperial Stout vs. Long Monday Imperial Coffee Porter.
Wine from Michael Migliore's Whitecliff Vineyards in Gardener, N.Y. will be paired next to Captain Lawrence ales at the Feb. 14 dinner on Valentine's Day, priced at $75 per person, plus tax and gratuity.
The Mar. 16 program, to be conducted in cocktail party style, combines whiskey, beer and cigars and includes participation by the Taconic Distillery in Stanfordville, N.Y. The cost is $85 per person, plus tax and gratuity.
Smith joined Captain Lawrence late last year after serving as executive chef at The Ram's Head Inn at Shelter Island on the eastern end of Long Island. He launched Captain Lawrence's first beer-paired dinner on Dec. 8.
The Elmsford brewery offers a regular food menu during the beer hall's Wednesday through Sunday operating hours.
The Industrial Arts Brewing Co. was opened by Jeff O'Neil last year. It is housed in the Garnerville Arts and Industrial Complex, a pre-Civil War historic landmark, and is easy to spot by its high smokestack. Located at 55 W. Railroad Ave. in Garnerville, N.Y., it is open to visitors Wednesday through Sunday afternoons. For more information, call 845-942-8776 or visit www.industrialartsbrewing.com.
The Taconic Distillery was founded by Paul Coughlin and Gerald Valenti. The distillery's products include straight bourbon whiskey. Its ingredients include natural spring water from Rolling Hills Farm. The distillery, which has a tasting room, is located at 179 Bowen Rd. in Standfordville, N.Y. Call 845-393-4583 or visit www.taconicdistillery.com for more information.
Founded by Scott Vaccaro, the Captain Lawrence Brewing Co. began operations in Pleasantville in December 2005 and moved to Elmsford six years later. It is located at 444 Saw Mill River Rd. For more information, call 914-741-BEER (2337) or visit www.captainlawrencebrewing.com.