Mohegan Wines & Liquors, Mohegan Lake
We are part of The Trust Project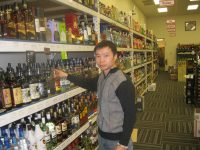 For the first business he ever owned, Mount Kisco resident Michael Chen chose to operate Mohegan Wines & Liquors in the Cortlandt Town Center shopping center in Mohegan Lake off Route 6, which opened five months ago.
"I like drinking wines, so that's why I bought it," Chen said in a recent interview. Chen added that many of his friends also own liquor stores.
Chen said he offers wines "from all over the world."
Since opening his new store, Chen said he has added to the wine selection and lowered prices. He has specials that provide a 10 percent discount for the purchase of six bottles of wine or liquor or 15 percent off the cost of 12 bottles.
Chen said he particularly enjoys drinking red wines, Cabernets from California and Redd Brand wines. His store sells wines from all over the world, including such nations as France, Australia, Italy, Spain, Germany and Portugal.
The establishment also offers a wide variety of liquors, including gin, brandy. and tequila. His new business is "one of the biggest liquor stores in this area," Chen said.
Chen said he likes the location of his new store. "We have ample parking," he said. The location, which is next door to an Acme supermarket, is also convenient for his customers, Chen said. He said his customers mainly come from northern Westchester.
"We have increased business every month," he said, noting a particularly busy time for his store was late last year when his customers were purchasing for Thanksgiving and the Christmas holidays.
The secret to his new store's success has been customer service, low prices and the variety offered, Chen said.
Among his goals for his store is to "try to make our customers happy," and offering the lowest prices possible, Chen said.
Mohegan Lake Wines & Liquors is located in the Cortlandt Town Center shopping center at 3065 E. Main St., next to the Acme supermarket. For more information, call 914-528-1088, send an e-mail to moheganwines17@gmail.com or visit its Facebook page: https://www.facebook.com/moheganwines/?rf=389905207864852.