Moderne Barn Plans Reception to Salute Citizens of Lesvos, Greece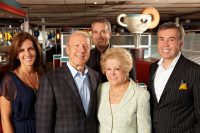 A fundraising reception will be held at the Moderne Barn restaurant in Armonk on Sept. 29, to benefit the citizens of Lesvos who unselfishly made financial sacrifices to aid the refugees who flocked to Greece. Cohosting "The Heroes of Lesvos" with the Moderne Barn will be the Afya Foundation, an organization that has been supplying medical supplies and equipment to relief workers at Lesvos, a Greek island in the Aegean Sea.
The evening's activities on Sept. 29 will include passed hors d'oeuvres from Executive Chef Ethan Kostbar's kitchen, an open bar, live Greek music, plus live and silent auctions.
The hors d'oeuvres will include heirloom tomato and Greek feta bruschetta; spinach feta Spanakopita with Tzatziki dip; crab cake fritters with whole-grain mustard aioli; Wasabi aioli tuna roll; mini Nomma meatballs with ricotta, basil, and tomato sauce; and vegetable rolls with jicama, cucumber, avocado, cabbage, and mango coconut sauce.
"While a lot of attention has been paid to the plight of the Syrian refugees and the social, financial and political impact this is having on all of Europe, the quiet island of Lesvos has accepted more than 500,000 refugees with compassion and selflessness," said Danielle Butin, Executive Director of The Afya Foundation, earlier this year. The Greek island, prior to the refugee crisis, had a population of about 86,000.
Lesvos has long been a popular tourism destination. It has sandy beaches, fishing boats, sailing, nightlife, resorts, water sports, birdwatching, archaeological sites, medieval castles, a hilltop fort, museums, monasteries, olive groves, a major ouzo industry, pottery, and a petrified forest.
"The people of Lesvos were the first responders for refugees fleeing from the Middle East," said Nick Livanos, Proprietor of the Moderne Barn, owned and operated by the Livanos family. "The island's tourism business has suffered badly—impacted by the migration," he said.
"Our family is originally from the town of Molyvos in Lesvos," he pointed out in explaining his family's desire to help.
Nick Livanos will briefly speak at the event. His sister Corina and brother Bill will also attend but their parents John and Chrysa Livanos will be providing assistance in Lesvos on the day the program at the Moderne Barn is being held. Butin will also address the audience briefly.
The items to be auctioned include a six-person gift certificate for a five-course tasting, wine-paired dinner and a "Greek Culinary Getaway" valued at $3600.
The Afya Foundation program for providing humanitarian assistance to Lesvos is called Project Spora. "Spora" means "sowing of seed" in the Ancient Greek lannguage. "Afya" means "good health" in Kiswahili, a language spoken by the Swahili people in Africa.
In January, 2016, Butin travelled to Greece and mounted a collaborative effort bringing Greek and American business, governmental and religious organizations together to help support the Greek healthcare infrastructure and attend to the needs of typically 2,000 to 6,000 refugees that at one time were arriving each day. The island has only one hospital.
The admission cost for the reception is $250 per person. The program will begin at 6:30 p.m. and run to 9 p.m. on Sept. 29, 2016. Reservations are requested by Sept. 19 and can be made by emailing mary.buckley@afyafoundation.org. A limited number of tickets will be available for same-day purchase at the door by credit card or check.
Moderne Barn opened in 2010. It is part of the Livanos Restaurant Group, a group of restaurants in New York and Connecticut, which also includes Molyvos and Oceana in New York City, and City Limits in White Plains and Stamford. It is located at 430 Bedford Road, Armonk NY, 914-730-0001.