Mixed Bag on the Dining Scene Since Restaurants' Reopening
We are part of The Trust Project

By Morris Gut
The opening of dining of restaurants in the area has seen mixed results. In my travels throughout Westchester over the last few weeks, I have noticed different degrees of compliance to COVID-19 safety guidelines by restaurants and the dining public. It is new ground, so I can understand some of the slipshod methods applied. We are human, after all.
We are lucky that we've had pretty consistent guidance coming out of Albany, less confusing and more straightforward than what we have heard from the White House throughout this crisis.
Wearing a mask or face covering, while mandatory for restaurant staff, was not always in play on my visits. Except when you sit down to eat, patrons were also not always in compliance, even though we have heard many times that this simple act can save lives. I have seen small spats erupt between customers over this issue. Social distancing also fell short if you let your guard down.
I would implore restaurant owners and patrons to get more with the program. Customers should bring their own masks, sanitizers and gloves, just in case. Anyone with underlying medical conditions should also be extra careful. It is for the greater good.
So far, outdoor dining has attracted more patronage than partial indoor seating allowed under Phase 3. Municipalities have gone the extra mile, allowing greater space for outdoor patios, even closing off streets in some cases, creating temporary pedestrian malls. Patrons generally perceive eating outdoors safer than being cramped indoors with outdated air filtration systems.
Some restaurants have gone to great expense to install see-through plastic shields between tables indoors and outside, as was evident during a visit to North Street Tavern at Maple Moor Golf Club in White Plains.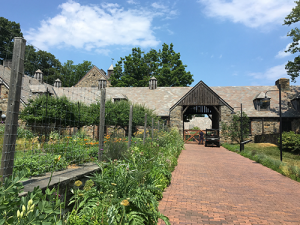 Picnics at Blue Hill at Stone Barns
Starting this Wednesday, Blue Hill at Stone Barns will create a curated picnic basket for two to eight guests and serve it on their patio or on the grounds. Seatings are at 5:30 and 7:30 p.m. The cost is $195 per person. It's by reservation only, rain or shine. Reservations will be taken every Wednesday from 9 a.m. for the entire week. All COVID-19 protocols will be followed.
The Barbers at Blue Hill at Stone Barns are still preparing ResourcED boxes for the public by advance order and reserved pick-up times. We recently noticed a flow of cars making their way to the pick-up location. Stone Barns will also deliver donated boxes of prepared foods filled with fresh and preserved vegetables and grains to community hospitals and their teams.
Donations for ResourcED boxes also go directly to pay staff. The choices include the Restaurant Box, the Fish Box, the Meat Box: Pork, the Meat Box: Beef and the Bread Box. It costs $150.
Blue Hill at Stone Barns is located at 630 Bedford Rd. in Tarrytown. Info: 914-366-9600 or visit www.bluehillfarm.com or www.exploretock.com/bluehillatstonebarns.
Keeping Cool at Captain Lawrence
We arrived at Captain Lawrence Brewing Co. in Elmsford at 4 p.m. one recent afternoon, just as the popular CLBC Beer Garden opened. We were able to get a parking spot quickly. We noticed the COVID-19 protocol signs as soon as we stepped onto their patio. The staff were properly masked, the picnic tables had been wiped down and there was already a light crowd enjoying their brews. You had to check in at the reservation station before sitting down.
Online reservations are encouraged, though we did not have one. Captain Lawrence was clearly observing coronavirus guidelines. They were printed on the back of the menu. There was no indoor seating.
Overhead, there were mist sprayers gently dousing the crowd and keeping everyone cool, similar to the sprayers you see freshening up fruits and vegetables at Whole Foods. I thought it was a pleasant touch; my partner not so. She was worried about her hair.
We settled in with a couple of Hop Commander IPAs and enjoyed the open-air setting. An order of their house fries from the limited menu sustained us before dinner. By the time we left, the beer garden had filled in. Check ahead for special hours and restrictions.
Captain Lawrence Brewing Co. is located at 444 Saw Mill River Rd. in Elmsford. Info: 914-741-2337 or visit www.captainlawrencebrewing.com.
Pizza Cucina, White Plains
Before his untimely death just over two years ago, Ernesto Capalbo, a veteran of the restaurant for 30 years and founder of the former Ernesto's Restaurant, had been producing some great pizza and Italian-American dishes. It is now in the hands of Charlie Gambino, his brother-in-law, and it has never been better.
Pizza Cucina is a playful redesigned space offering freshly-made Neapolitan pizza, varieties galore, garlic rolls, stuffed calzones, finger food, soups, entrée-size salads and overstuffed paninis and wedges. There is limited seating inside and seasonal outdoor seating at tables with umbrellas. Everything is available for take-out and catered events.
Pizzas run the gamut from the Margherita to Grandma's Pizza, a thin-crust square pizza with house-made tomato sauce, fresh mozzarella, sliced tomatoes and basil. The Formaggi White Pizza contains mozzarella, parmigiana and ricotta, while the decadent Chicken Bacon Ranch is topped with chicken cutlet, crispy bacon, mozzarella and ranch dressing.
The Meat Lovers features sausage, bacon, pepperoni and ham, while the Pesto Primavera includes grilled eggplant, zucchini and roasted red peppers with pesto sauce. You can create your own pizza or a focaccia combination with a variety of toppings. Gluten free is also available.
Check out such playful paninis such as the Cuban Reuben (ham, turkey, swiss cheese, provolone, pickles and mustard) or the Caprese (fresh mozzarella, tomato, basil, pesto and reduced balsamic vinaigrette). There are wedges such as the Pepper and Egg Frittata or the Italian Combo (ham, salami, mortadella, provolone, lettuce, tomato and house dressing).
Generously served Italian-American entrees include spaghetti and meatballs; house-made lasagna; chicken, eggplant, veal or shrimp parmigiana; and Chicken Scarpariello. There are daily specials and enjoy their house-made bread to take home.
Over the past few months, Pizza Cucina, in coordination with other local donors, has prepared thousands of meals for frontline workers at White Plains Hospital and first responders in White Plains.
Coronavirus restrictions are in place. Contactless ordering. Please follow all hygiene rules. Limited indoor and outdoor seating.
Pizza Cucina is located at 102 W. Post Rd. in White Plains, across from the Boulevard development. The restaurant is open Sunday through Thursday from 11 a.m. to 10 p.m. and Friday and Saturday from 11 a.m. to 11 p.m. Take-out, delivery and catering. Major credit cards are accepted. Casual dress. Handicapped accessible. Free and municipal parking. Info: 914-752-4611 or visit www.pizzacucinamenu.com.
Keeping sharp with Jack Knife
There has been a large uptick in home cooking during the pandemic. Novice and professional cooks have been busy honing their skills.
So how do you keep those knives and kitchen utensils sharp? You may want to catch up with Jack "Knife" Martin, U.S. Navy veteran and owner of Jack Knife Sharpening in White Plains. He has become a regular at the Wednesday White Plains Farmers Market and at markets across Westchester and Connecticut.
Martin works with professional chefs and home cooks offering knife blade sharpening and restoration services for knives, scissors or garden tools. Gift cards are available.
For information and rates, call 914-434-0522 or visit www.jackknifesharpening.com.
Morris Gut is a restaurant marketing consultant and former restaurant trade magazine editor. He has been tracking and writing about the food and dining scene in greater Westchester for 30 years. He may be reached at 914-235-6591 or at gutreactions@optonline.net.