Million Air Celebrates Opening of New Hangar at Westchester Airport
We are part of The Trust Project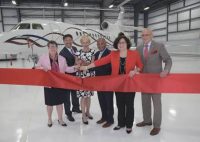 County and local officials joined with executives from Million Air, May 2, to celebrate the grand opening of Million Air's new hangar at its corporate aviation complex at Westchester County Airport. The 52,000-square-foot hangar is part of Million Air's $80 million expansion and upgrade at the airport.
The two-story hangar features 28-foot height doors capable of housing a Gulfstream 650 business jet and eight customizable offices with storage space. With the completion of the new hangar, Million Air's complex will have 84,000 square feet of hangar space and 7.25 acres of ramp space.
Construction is currently under way on a new 18,000-square-foot terminal, which is expected be completed by the end of this year.
In May 2016, the Westchester County Board of Legislators approved a 30-year lease with Million Air, granting improvements of the company's Fixed Base Operation facilities on the 26-acre property at Westchester County Airport. In October 2016, the Westchester County Industrial Development Agency (IDA) approved issuing tax-exempt bonds for Million Air, which lowered the project's financing costs.
Headquartered in Houston, Million Air is a network of executive FBO terminals spanning four continents.