Mike Love and the Beach Boys Coming to County Center July 6
We are part of The Trust Project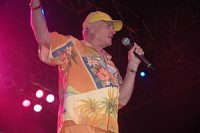 After more than 50 years, famed rock band The Beach Boys has seen a resurgence in interest in its music. Since 2013, when fans sent their Capital Records release "Sounds of Summer" to triple platinum, demand for the group has continued to increase.
With band co-founder and lead singer Mike Love, The Beach Boys will play locally at the Westchester County Center on Wednesday, July 6.
Joining Love will be Bruce Johnston, who along with Jeffrey Foskett, Brian Eichenburger, Tim Bonhomme, John Cowsill and Scott Totten, continue the legacy of the iconic American band. This concert will not feature Brian Wilson, Al Jardine or David Marks.
Love's role as the band's front man sometimes overshadows his stature as one of rock's foremost songwriters. "Surfin'," The Beach Boys' first hit came from his pen. With his cousin, Brian Wilson, Love wrote the classics "Fun, Fun, Fun," "I Get Around," "Help Me Rhonda," "California Girls" and the Grammy nominated "Good Vibrations."
The period between "Good Vibrations" (1966) and The Beach Boys' biggest selling hit "Kokomo" (1988) is one of the longest spans of time between number one records in history. This feat demonstrates the ageless, timeless appeal of The Beach Boys. Love is the co-author of both of these smash hits.
Love was among the first pop musicians to become involved in the practice of Transcendental Meditation. He began practicing TM in December 1967. He was among those who included The Beatles, Donovan, Prudence Farrow and Mia Farrow on their famous trip to Rishikesh in India in 1968. He still maintains his practice of TM and participates with such organizations as the David Lynch Foundation to promote the benefits of Transcendental Meditation.
The Beach Boys annual tours have reached all of the Americas, Europe, Africa, Asia and Australia and popular demand has not allowed Love a summer off in 50 years in his role as lead singer.
It was Love's idea to perform free Independence Day concerts on the grounds of the Washington Monument in the nation's capital beginning in 1980. After a national uproar following Secretary of Interior James Watt's ban of The Beach Boys for this event, they returned on July 4, 1984, by a personal invitation from First Lady Nancy Reagan. On July 4, 1985, The Beach Boys played to an afternoon crowd of one million in Philadelphia and the same evening they performed for over 750,000 people on the Mall in Washington. The day's historical achievement was recorded in the Guinness Book of World Records.
Love has been a longtime supporter of environmental causes. He created the Love Foundation, which supports national environmental and educational initiatives.
Doors will open at the Westchester County Center for The Beach Boys at 7 p.m. The performance begins at 8 p.m. Parking is $10. Tickets are $102, $92 and $82 and can be purchased through the Center's on-site box office. For more information call: 914-995-4050.