Middle Eastern, North African Documentaries Return to the Burns
We are part of The Trust Project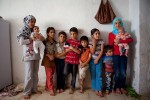 The documentary filmmakers whose works are being presented during the Jacob Burns Film Center's upcoming "Greenhouse 2016: Emerging Documentary Voices from the Middle East and North Africa" series are paying a heavy price.
Creators of the eight documentaries that will be shown during the five-day series that begins Sunday face persecution should they return home because they highlight struggles for justice and freedom in their native countries, said series curator Karen Goodman.
She said the series is a way for directors from the Middle East and North Africa to provide glimpses of "the world they come from." The films are products of the Greenhouse Documentary Development Program, which assists emerging documentary filmmakers in those regions.
Two of the filmmakers whose documentaries are being screened will take part in the film center's International Fellows program. Maryam Ebrahimi from Iran and Hind Bensari of Morocco have made award-winning documentaries about women's rights abuses back home. Goodman said the two directors will be working with their editors in Pleasantville on upcoming films and will participate in a new adult education class to discuss their works.
"It's really an exciting opportunity for us," Goodman said.
This year's series opens on Sunday, March 20 with a 5 p.m. screening of "No Burqas Behind Bars," directed by Ebrahimi and Nima Sarvestani. The documentary is about how "moral crimes" are used to control women in post-Taliban Afghanistan. The film was shot inside Takhar Prison in Afghanistan, where about 40 women and their children were locked up.
Following the screening, Ebrahimi will participate in a question-and-answer session.
On March 23, "475: Break the Silence" director Hind Bensari will introduce her film for the 7 p.m. screening. The documentary was made in response to the suicide of a 16-year-old Moroccan girl after she allegedly was forced to marry the man who raped her.
Bensari investigated the perception and misrepresentation of rape in Morocco. The film led to the repeal of the nation's law that required rape victims to marry their attackers.
An exhibit in the theater's Jane Peck Gallery featuring the works of renowned photojournalist Saeid Sadeghi will coincide with the series. Sadeghi's photographs from the first Persian Gulf War are featured in Ebrahimi's work-in-progress documentary "Stronger than a Bullet." The photo exhibit opens this Thursday.
The Jacob Burns Film Center is located at 364 Manville Rd. in Pleasantville. Call 914-747-5555 or visit www.burnsfilmcenter.org for more information, including ticket prices and the full schedule.