Michelle Imbaquingo Named 2012 Youth of the Year
We are part of The Trust Project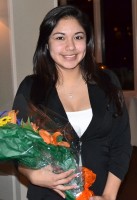 The Boys & Girls Club of Northern Westchester (BGCNW) announced that Michelle Imbaquingo of Mount Kisco has been recognized for her commitment and outstanding contributions as the club's 2012 Youth of the Year, the highest honor awarded by the club to a member. The National Youth of the Year Program, a Boys & Girls Club of America initiative, honors one of its members for developing superior leadership skills, overcoming personal challenges, achieving academic excellence, and performing outstanding service to the club and the community.  Imbaquingo is a senior at Fox Lane High School.
As a result of her commendable service, Imbaquingo will be granted a $1,000 scholarship from BGCNW. She will also compete against other Boys & Girls Club youth for the New York State Youth of the Year title. Five regional winners selected among state winners will compete for the national honor in Washington, D.C., where the National Youth of the Year will be officially installed by the president in a White House ceremony in September.
Imbaquingo joined BGCNW in 2010 where she currently volunteers in the After School Fun Club and Summer Adventure Program. In July of 2011, Imbaquingo became a member of the club's junior staff program, working with the second grade. She has made the honor roll throughout her high school career and continually displays a drive to succeed and a commitment to achieving her goals. Drawing from her own personal experiences, Imbaquingo counsels and helps teach English to Latino students as they adjust to life in high school. She has also dedicated time as a volunteer at Mount Kisco Child Care Center. Imbaquingo plans to attend college where she would like to study to become a pediatrician.
"Michelle has displayed such determination for her goals and compassion for others in the time she has been part of BGCNW," said Barbara Cutri, director of operations, BGCNW. "The Youth of the Year is meant to be a role model for all children in the community— and that is exactly what Michelle is, an exceptional role model for BGCNW members and the entire community."
The Boys & Girls Club of Northern Westchester is located at 351 Main Street in Mt. Kisco and can be reached at 914-666-8069 or by visiting www.bgcnw.com. To contact the club's Teen Center, located at 317 Main Street in Mt. Kisco, call 914-733-0033.