Mex-to-Go, Croton and Somers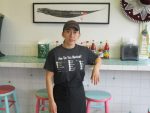 Croton resident Mayra Vicnay Caguano offers takeout food that is varied includes fresh ingredients and made to order.
Caguano is the owner of Mex-to-Go, which has locations in Croton and Somers. They are the first businesses she has owned.
She took ownership of her Croton location in 2008 after working there for two years. She purchased the Croton eatery from owners John Pratt and Craig Purdy. She opened the Somers Mex-to-Go three summers ago.
Owning restaurants is a natural extension of her working life, Caguano said last week, "I started when I was a little girl to love to cook," she recalled.
The eateries' extensive menu includes such items as tacos, quesadillas, burritos, enchiladas, and taco salads. The entrée ordering format is a choice of style, such as a taco, burrito or enchiladas; then choosing of one such fillings as pork, beef, fish or vegetables; then a choice of salsa is offered.  Also available are several side dish choices including chili, guacamole and fried yucca; lunch specials and a rotisserie chicken dinner for two with salad, rice and beans.
Some of the desert items are flan, tiramisu and brownies with, as the menu states, a "chipotle kick"
Some of the most popular entrees at her two locations are burritos, enchiladas, tacos and chimichangas, Caguano said.
Though the name of her restaurants is Mex-to-Go, both locations have seating for those who want to eat in, Caguano said.
At the Croton locations most of her customers come from Croton and Ossining and in the Somers site most patrons live in Somers and nearby.
Most of the items available at Mex-to-Go are homemade and she does most of the cooking, Caguano noted.
The quality of the food offered is the key to the success of her restaurants, Caguano said. Her customers appreciate that they have a chance to order "fresh and homemade food," she said.
Mex-to-Go has two locations. The Croton location is 345 S Riverside Ave. and be called at 914-271-TOGO.and its Web site is http://mextogo-croton.com/default.htm. The Somers location is 56 Route 100 and its phone number is 914-01-9777.