Mercy College Gives Musicians Chance to be Discovered
We are part of The Trust Project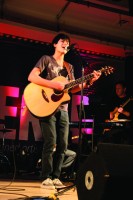 By Alyssa Zack and Andrew Vitelli
Last year, Danny Spadaro was in his high school library in New Jersey reading a magazine when he stumbled across an ad for DISCOVERED: The Unsigned Artist Competition. The New Jersey native, who had been playing guitar for most his life and singing for five years, was intrigued.
"I wrote it down on my hand," Spadaro recalled. "That night I looked it up and it looked really cool."
The competition, held by Mercy College, requires contestants to record of video of themselves singing, either while playing an instrument or with a backing track. Visitors to the site then vote for their favorite performers, with the contestants with the highest vote total when voting ends moving on to the semi-final round to compete head-to-head for a shot at the finals. The winners get to professionally record their own track in the 4,000-square-foot multi-recording studio at the college's Music Industry and Technology Program's Center for Digital Arts in White Plains.
Mercy College has campuses in Dobbs Ferry, White Plains and Yorktown Heights.
"I saw some of the other videos," remembers Spadaro, a West Caldwell, N.J. resident. "Some of them weren't too good, but some of them were really good."
For the first two rounds, Spadaro recorded his tracks with his cousin. For the finals, in which professional judges decide the winner, Spadaro delivered a memorable live performance and finished as the first runner-up. He was later signed to the DISCOVERED Recording Label, which is run by students in the program.
"It was incredible," said Spadaro, who just released "Tightrope," his debut single. "I was serious about this career but this contest and them signing me and just doing all this awesome stuff, building a fan base and getting myself out there, has really strengthened my passion for being in this business."
Last year, 19-year-old Poughkeepsie native Samantha DeRosa took first place while Spadaro and Wayne, N.J. resident Sarah Cumings were runners-up. This year, Mercy College has once again begun searching for unsigned artists with talent and the desire to make it to the next level. DISCOVERED is focused on "fostering and promoting new and emerging talent," Paul Steinman, Mercy College Music Industry and Technology Program Director, said. Anybody between the age of 14 and 26 who lives in the United States is able to enter. The only thing that's required for submission is an online video recording. It can be a cover or an original song, and all genres of music are welcomed. "Contestants are encouraged to use their natural voices during the auditioning process," Steinman says. Despite the excessive amounts of digital editing in music nowadays, the competition is meant to uncoverand promote true vocal talent.
"The judges are really looking for a performer that has competitive skills in the music entertainment industry," Steinman explained.
The idea of the contest and the label were born out of a meeting between Steinman and Mercy President Kimberly Cline.
"We thought it was a natural fit with our recording arts program," Steinman said. "The students in the music production and recording arts program are getting experience in recording and producing and marketing a finished product."
The first season of DISCOVERED had more than 200 submissions. While even more auditions are expected this year, only 10 people will be selected for the list of finalists. The voting is mostly done online by the public, until professional judges are added to the online votes in the semifinal round. These remaining singers will compete in a live and unedited finale at Mercy College on April 28 and the judges will determine the winner.
The winner of the DISCOVERED Unsigned Artist Competition will be provided with several beneficial tools for musical improvement and recording. Professionals will assist in composition, audio engineering, production, and business until the artist is finished recording. Vocal coaching, studio performance guidance, and career advice will be rewarded to the most talented artist as well.
"We wanted to just provide a service to aspiring musicians and artists and provide exposure for them," Steinman said. "The competition allows up-and-coming artists an avenue to earn their first break in the music industry."
He added that it also "provides Mercy College Music Industry and Technology students with practical, hands-on experience in all aspects of the music industry."
Steinman's tip for those auditioning is to "be unique." He says that the judges are, "seeking stage presence, vocal ability and general appeal."
Spadaro had similar advice.
"You need to make yourself stand out from everyone else," he said. "Don't do a typical cover of a popular song. Don't try to sound exactly like the artist."
It is also recommended that anybody who hasn't yet entered do so in the very near future, since online voting is the major component in proceeding to the semifinal round. The deadline for Season 2 submissions is the end of February.
To hear Season 1 Finalist Danny Spadaro's newly released single, "Tightrope," go to iTunes or Amazon. For more information on DISCOVERED visit www.discoveredauditions.com.