Menu Movers: The Early Supermarket Basket
We are part of The Trust Project
By Morris Gut –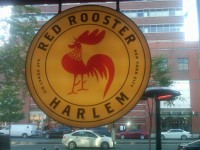 The summer is finally upon us and for food and dining aficionados it is a plentiful time. Farmers markets, gourmet groceries and restaurants are overflowing with goodies from land and sea. Lately, I have been busy fulfilling my cravings for soft shell crab, enjoying fresh leafy salads, discovering kale and downing a healthful kale shake with fruit from time to time, even taking in a wondrous Kale Caesar Salad at Chef Brian Voltaggio's hot new Range (www.voltrange.com) in the Friendship Heights section of D.C.  We've also been preparing fresh asparagus topped with a poached egg for breakfast in the classic bistro style. By the way, in case you haven't noticed French bistros are making a major comeback all over New York and Westchester so I am looking forward to doing some pleasurable reporting as it happens. So good!
Summer Road Trip
The burgeoning restaurant scene around The Beltway has made it one of my favorite dining destinations over the years. During our last visit to D.C. we stopped by the Smithsonian's National Museum of American History to see one of the newest updated exhibits: Food: Transforming the American Table, 1950-2000. One of the continuing mainstays here is the highly popular Julia Child Kitchen, which the museum brought back utensil and appliance-intact from her home in Cambridge, Mass. It draws a big crowd daily, both young and old, a tribute to the iconic culinary figure she became. The updated exhibit now includes more about the culinary history of America both food and wine, how we got here and some of the influential people who made it happen. It is a good browse for all ages.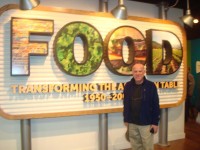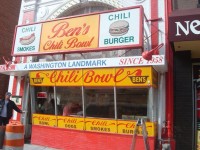 That was the same day we treated ourselves to another D.C. institution: Ben's Chili Bowl on the Ave. U corridor NW just down from Howard University. Yes, it's the same spot that's been seen on TV road food trips and not long ago served Barak Obama a bowl of their famous chili for lunch prior to his first inauguration. Vintage photos in the dining room tell the story. Well, this funky retro spot was bustling, lines outside, while inside a most friendly staff was serving up such specialties as Chili Cheeseburger, Cheese fries, Chili Dogs and shakes, and a real good Pineapple Coconut Cake. And they have been going at it since Ben and Virginia Ali opened it in 1958. There is a Black History Trail emerging there and gentrification underway all around the historic neighborhood. www.benschilibowl.com
Ina Garten in Hartford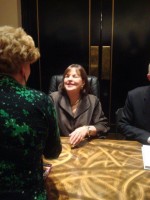 We got to see Ina Garten recently, too, doing a live interview with NPR at the lovely refurbished Bushnell Theater in Hartford, Conn. The place was packed to the rafters, a remarkable reminder of just how popular these culinary celebrities have become. We are big fans of her cooking program on the Food Network and refer to her cookbooks on a regular basis, so it was a treat getting her to sign one of her new books after the lecture. And if you happen to find yourself in Hartford and in need of a good restaurant I would heartily recommend bustling Max's Downtown (www.maxrestaurantgroup.com) , right in the heart of the city's growing nightlife scene and a walk from The Bushnell. We ate from the more casual tavern menu and it was quite good.
Plucking Through Harlem's Red Rooster
After a most enjoyable run through the exciting Punk Fashion Show at the Met we decided to stay the course and make our way up to Chef Marcus Samuelsson's Red Rooster in Harlem, 310 Lenox Ave. between 125th and 126th St., Manhattan (www.redroosterharlem.com). It had been on my 'must visit' list since the day it opened. The Rooster is flanked by such legendary spots at the Apollo Theater, Sylvia's Southern Cuisine down the street and the Lenox Lounge.
I have been a fan of Chef Samuelsson since his early days at the multi-starred Aquavit where he showed off his prowess with Scandinavian cuisine. Here his intent is to explore the history of American comfort food melded with the diverse cultures in the surrounding neighborhood. It is an eclectic dining room and menu to be sure; one we had fun plucking our way thru with the friendly crowd around the busy bar/lounge. There is a more formal dining room with open kitchen in the rear, and big blackboards of specialties highlighting the walls.
Our choices included: an extraordinary version of Mac & Greens with house made orecchiette pasta, gouda, New York cheddar and comte cheeses;  lovely fresh Grilled Salmon & Gazpacho with roasted tomatoes, cucumbers and sourdough; and Chef Marcus' luxurious take Swedish Meatballs, Helga's Meatballs served with lingonberries, braised cabbage and mashed potatoes. The menu even has its takes on old-fashioned Chop Suey and Summer Succotash. Great flavors all around, topped off with a mug of Bronx Ale to wash it all down.
(Morris Gut is a restaurant consultant and former restaurant trade magazine editor. He has been tracking and writing about the food and dining scene in greater Westchester for over 25 years. He may be reached at: 914-235-6591. E-mail: gutreactions@optonline.net)