Menu Movers & Shakers: Winter Dining Deals to Start the New Year
We are part of The Trust Project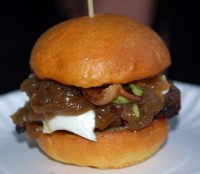 By Morris Gut — 
The consensus among restaurants: 2012 had its highs and lows and now that the Holidays are over reality sets in. I know, the bills are arriving from your holiday shopping spree, but it is really a good time to dine out because eateries are offering extra incentives to lure in the customer. Of course, you can search through those coupons and discounting options but many restaurant owners are also offering in-house deals that are hard to beat right now. Here are some suggestions.
Morton's The Steakhouse, 9 Maple Ave., White Plains 
It is one of the best-kept secrets in greater White Plains. General Manager Sean Redlein of Morton's White Plains, who also carries the title of sommelier, offers daily Power Hours from the opening bell to 6:30 p.m., and from 9 p.m. to closing, featuring specially priced cocktails and tasty reasonably-priced steakhouse munchies. While you can splurge if you want on a hefty cut of USDA Prime Aged beef, you can also hunker down to such Bar Bites as $6 Iceberg Wedge Bites, fresh cut potato chips, Chicken Goujonettes, Parmesan Matchstick Fries; or $7 Mini Crab cake BLTs, Tuna Tacos, three Prime Cheeseburger Sliders, or four Petite Filet Mignon Sandwiches. Oysters on the half shell and jumbo Shrimp Cocktail are also available. And for $19.95 you can order a juicy Morton's Prime Burger with fries that will make your day. Municipal parking; www.mortons.com; 914-683-6101.
La Riserva, 2382 Boston Post Road, Larchmont 
Chef/proprietor Michael Vivolo has been serving the 'Italian classics' here for 34 years and the handsome atmosphere now highlighted by vintage Italian photos, and friendly ambiance keep it a treat. A new reasonably-priced lunch menu served Monday thru Friday starts at just $12.95. Choices change regularly. Special 3-course Tuesday Evening Winter Dinners are $17.95 per person plus tax & tip and include soup of the day, fresh house salad, fresh bruschetta and choice of such changing entrées as: Filet of Sole Francese; Eggplant Rollatine stuffed with ricotta; Farfalle Romana, bowtie pasta with chicken, fresh tomato, mushrooms and asparagus; and Salmone Vecchia Romagna, with zucchini and sundried tomatoes in a creamy brandy sauce. Chef Michael's son Dean also operates Trattoria Vivolo in Harrison. Private party facilities. Open 7 days. Free parking; www.lariservarestaurant.com; 914-834-5584.
The Marina Grille, 290 Drake Ave., New Rochelle 
Lou and Rose Promuto have re-opened The Marina Grille Waterfront Restaurant & Bar located at Wright Island Marina in New Rochelle surrounded by boat clubs and the Long Island Sound. Complete 3-course Dinners served Tuesday through Thursday cost $18.95. Chef is seasoned Sergio Dechiara, a graduate of the New York Restaurant School, who is not bound by culinary borders. His menu offers such comforting dishes as: New England Clam Chowder; Artichoke Crab Dip; Coconut Shrimp; a massive Paella Valenciana, served with mixed seafood with chorizo-chicken rice; Buttermilk Fried Chicken served with broccoli, mashed potatoes and brown gravy; Porterhouse for two; and an occasional tender hunk of Short Rib on the bone with all its delicious juices. Daily happy hours in the bar/lounge; live entertainment Thursday nights; open for lunch and dinner Tuesday through Sunday; ample free parking; closed Mondays; 914-365-1860.
La Piccola Casa, 410 W. Boston Post Road, Mamaroneck 
Chef/owner Walter Ricci is originally from Peru and had an Italian grandfather. He has worked many popular kitchens through the years including the former Umberto's in Rye and Giorgio's in Port Chester. He moved his 15-year-old restaurant into handsomely refurbished quarters in the landmark DeLancey House where author James Fenimore Cooper lived for a time across from Harbor Island Park. Complete 3-course dinners are served Monday-Wednesday for $20.95, and there is a daily $9.95 lunch. Enjoy such house specialties as: Clams Oreganata, one of the best versions around; refreshing Seafood Salad; a lavish Fettuccine Carbonara; great Osso Buco when available; tasty Pollo Scarpariello; fresh Snapper Posillipo; or a hefty Broiled Veal Chop. Open 7 days; free parking; www.lapiccolacasa.com; 914-777-3766.
Agostino's, 336 Pelham Road, New Rochelle 
Chef Anna Catalano of Agostino's prepares everything in her regional Italian kitchen from scratch: her sauces, the pastas, right down to the fresh cannoli shells and desserts. That's why an especially good deal here are her Pasta Nights, offered Sunday through Friday. The meal comes with soup or salad, choice of house made pasta, coffee or tea. Cost range: $15 to $18. Be seated and let Anna, her husband Antonio and brother Gasperino Di Fabio serve you such home style favorites as: Portobello e Polenta alla Griglia con Gorgonzola; Spaghetti alla Chitarra alla Pescarese con Frutti di Mare, seafood in a light marinara sauce; homemade Ravioli di Aragosta in Salsa Rosa, with lobster in a light cream sauce with touch of tomato; classic Zuppa di Pesce alla Mamma Lucia, with clams, mussels, shrimp, calamari, scallops, octopus and fish of the day with linguini; Pollo alla Scarpariello prepared here on the bone sautéed with garlic in a white wine sauce; or Involtini di Anna alla Fantasia, stuffed with provolone and shitake mushrooms. And, oh those wonderful cannolis! Fresh pasta for take home by advanced order. Cozy bar/cocktails; open 7 days a week; free parking; valet evenings;  www.agostinositalianristorante.org; 914-235-6019.
Chianti, 174 Marbledale Road, Tuckahoe 
Chef/proprietor Paul Caputo of Chianti opened a bustling ode to Italian-American cuisine served in generous style. You can get a complete 4-course lunch Tuesday thru Saturday from 11 a.m. to 3 p.m. for $15.95. There is a 4-course dinner special for $19.95 served Tuesday-Friday; and a Daily 5-course Meal for $30. per person with wine. Caputo previously operated Gina Marie's Bella Vita in Mt.Vernon and the former Bella Vita in Mahopac. Over the years he has worked for a storied cast of kitchens from Rigoletto's and Amici's on Arthur Ave. in the Bronx to the original Valentino's in Yonkers. Over on one wall in the dining room is inscribed: "chi mangia bene, viva bene" (if you eat well, you live well). Chef Caputo has a history of serving big portions of fresh made-to-order food; 'family style' some call it. Check out such specialties as: Spiedini ala Romana; his amazing Garlic Bread Paoliccimo with chopped broccoli rabe; Zuppa Di Pesce over Capellini; Steak Compagniola; or giant Veal Chop De Benedictis. Don't worry; there are always plenty of doggie bags on hand for take home. Complete lunch and dinner available daily. On and off-premise catering; 914-346-8844.
Byrne & Hanrahan, 640 McLean Ave., Yonkers 
Partners Mike Byrne and Brian Hanrahan, veterans of Smith & Wollensky Steakhouse in Manhattan, took over the former J.J. Mannion's and have been converting it into their very own ode to dry aged beef and fresh seafood along with a nod to the local tavern community. The juicy burgers are priced at $9.50 with topping of your choice. A new Sunset Dinner is served Monday through Thursday from 5 to 7 p.m. and includes choice of soup or fresh house salad, choice of entrée and house dessert, coffee or tea all for $14.95 per person; with a glass of wine its $19.95. More good deals include a wonderful Corned Beef Sandwich with great house fries for $7.50, a family-style $20 Sunday brunch, and their reasonably priced Prime Rib dinners served on Sundays from 4 p.m. There are several dining areas and party rooms and a big long bar for daily spirited networking and conversation. Open 7 days for lunch, dinner and Sunday brunch. www.byrneandhanrahan.com; 914-476-2786.
Ambadi, 141 E. Post Road, White Plains 
If you have a yen for Indian food this is a reasonably priced option throughout the week. Partners Mathew, John Simpson and Mary Kalathara, siblings of Simpson Kalathara, owner/founder of the former Bengal Tiger, operate Ambadi specializing in the delectable quick foods and snacks of India beautifully arranged and showcased daily. There are warming soups such as traditional Mulaguthanny vegetable, appetizers such as stuffed samosas, tempting rice and curry plates such as Dhaba Rogan Josh with lamb, Biriyani, tandoori platters, a flavorful selection of kebabs and rolls such as Tandoori Chicken Pita; full meal combination platters and complete lunch boxes to go. Prices range from $4.95 to $14.95. There is some seating but take out is the main thing here. Open Monday through Saturday, 11:30 a.m. to 9:30 p.m.; Sundays, 3 p.m. to 9 p.m.; local delivery; www.ambadi-usa.com; 914-686-2014
(Morris Gut is a restaurant consultant and former restaurant trade magazine editor. He has been tracking and writing about the dining scene in greater Westchester for over 25 years. He may be reached at: 914-235-6591. E-mail: gutreactions@optonline.net)