Menu Movers & Shakers: Romance Over Food and Wine on Valentine's Day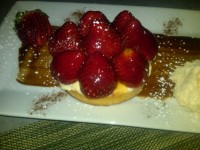 By Morris Gut – Amore! The coupling of good food and wine with the sensual is the aphrodisiac of literature and verse through the ages. Pucker up! Valentine's Eve Thursday, Feb. 13th and Valentine's Day, Friday, Feb. 14th. Warm things up a bit, make a whole weekend out of it. Restaurants and nightspots are gearing up to serve some of their most titillating specialties. Here is an eclectic roundup of delectable dishes and dining venues for you and your loved one and don't forget to reserve early.
A Rhythmic Latin Valentine's Day: Host-owner J R Morales and his team brought Sofrito, 175 Main Street, White Plains, up from Manhattan in 2011 and the place has become a must-stop on the Latin-themed dining and nightlife crawl. A special 3-course Prix Fixe Menu will be served during Valentine's Day. First course will include choice of: Seafood Sancocho, Valentine Salad, Lobster and Corn Quesadilla, Grilled Rib Eye Taquitos, or Wild Mushroom and Spanish Manchego Potato Cheese Croquette. Second course offers a choice of: Spaghetti with shrimp or chicken, Broiled Lobster Tail, Cornish Hen a la Plancha, Grilled Filet Mignon with red wine cumin sauce, or Crispy Malanga Crusted Filet of Basa Fish. And for the third course there is a dessert sampler for two. The house would be delighted to personalize your set up by advanced reservation. Sounds great. Check out the hot specialty cocktails at the bar and Latin Sushi, too. Open seven days a week for lunch, dinner and Sunday brunch. Dancing and live entertainment schedule. Municipal and valet parking. Tel: 914-428-4740; www.sofritowhiteplains.com.
Stone Fire Pizza is Hot: Danny Zandel had managed the original La Fontanella in Pelham, Chef Philippe Flory, a native of Nice, France, has been a baker and pastry specialist for 40 years, and Chef Tom McAliney ran the kitchen at Greenwich Country Club. Last May this talented trio partnered and opened SFP Stone Fire Pizza, 76 Main Street, Irvington, and the crowds have been flocking in for such house specialties as their delicious artisan pizzas baked in a rotating wood burning stone oven, along with tasty versions of Mozzarella in Carozza; Arancini; Frisee aux Lardons Salad; Veal or Chicken Paillard; Vegetable Lasagna; and good old Veal, Chicken or Eggplant Parmesan. There's a fine version of Chicken Scarpariello on hand, too. Leave room for the stellar fresh desserts via Chef Flory. Sit at the bustling counter and watch the action, or in the dining room and let Danny and his friendly staff set the pace. Open Tuesday through Sunday for lunch and dinner. Street parking. Tel: 914-591-5800; www.sfpny.com.
Love, Croatian Style: Jerry Tomic, a native of Croatia, has flavorfully melded historic cuisines of Croatia served in a refined atmosphere. He premiered Dubrovnik, 721 Main Street, New Rochelle last summer and it became a hit: Westchester's first restaurant devoted to Croatia, a multi-level 85-seat establishment with seasonal outdoor patio, state of the art temperature controlled wine cellar, al fresco rotisserie BBQ, lush seasonal herb garden and bar/lounge. Talented chefs man the kitchen and they will transport you to the beautiful Adriatic in flavorful style. Jerry Tomic and his wife 'Jackie' Kaszas also insists they will be using all the finest ingredients in the seasonal marketplace just as his mother did at their highly popular restaurant on the Island of Lopud, near Dubrovnik. Most everything is house made from the bread to desserts. Try the Warm Octopus Salad; Steamed Mussels; Bay Scallops on the Shell; Fresh Cod Filet with grapes, olives, pearl onions; Mama Tereza's lobster, shrimp, scallops, fish, clams and mussels steamed in a seasonal broth over pasta; Grilled Rack of Lamb; or whole roasted fish prepared out on the BBQ. Special Valentine's Day menu. Open 7 days for lunch and dinner. Live entertainment. Reservations suggested. Private party facilities. Valet parking. Tel: 914-637-3777; www.dubrovnikny.com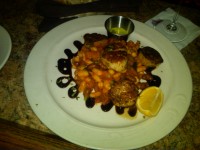 Ciao to All Lovers: Zef and the amiable crew at Ciao, 5-7 John Albanese Place, Eastchester, are marking their 25th Anniversary at their bustling trattoria with generous platters of Italian/American cuisine served with gusto. Be seated and have Peter, the genial general manager suggest such open kitchen specialties as: Hot Antipasto for two, loaded with delectable fruits of the sea; giant Scallops Appetizer with drizzled wasabi; fresh Arugula Salad with goat cheese, marinated Portobello mushrooms, sprinkled with balsamic vinegar; house made Pappardelle with fresh tomato, basil and chunks of fresh mozzarella; Salmon ala Ciao, with white wine, lemon, capers and asparagus; delicious Chicken Paillard, or Veal Salvaggio, decadently good with cognac, garlic, sage, shitake and porcini mushrooms. From the grill come such hefty cuts as: Broiled Veal Chop, Black Angus Shell Steak, Sausages Frioli served with peppers (hot or sweet), mushrooms, onions and sliced potatoes; and Pork Chops with vinegar peppers. Good crusty pizzas, too. If you have room left, try one of the house made desserts. Cozy, friendly bar. Party facilities. Open seven days a week. Major credit cards.  Free and valet parking. Tel: 914-779-4646; www.ciaoeastchester.com
Continental Flair at Manor Inn: Take a restaurant location with a long history, meld it with a veteran operating team who have taken great care to maintain its setting and esteem, and you have the opening of the Manor Inn, 2047 Boston Post Road in Larchmont. The free-standing house had a long run as La Cote d'Argent from the 1970s through the early 1990s. Now after an enhancement to the multi-level premises seasoned proprietor Robert Pastore and his partner Seamus Costigan are bringing back the Continental flair once on display here along with a nod to present culinary trends. Robert Pastore notes, you will not see many menus like this. It espouses the best of the traditional with the modern, touching on American, Italian and French roots and not bound by borders. Be seated in the beautifully redesigned 70-seat main dining room and let Pastore and his floor staff take you on a genteel dining experience. Colorful artworks and flowers are on display around the room. A mural of the Manor Park gazebo is on one wall. There is a cozy bar tending to the spirits. There are lovely table settings and decorative plates. A floating cart with its glistening silver serving pieces are ready for tableside service. A handsome stone fireplace warms the room in winter. Private party facilities. Open Tuesday-Sunday. Ample free parking. Tel: 914-732-3100. www.manorinn.net.
 (Morris Gut is a restaurant consultant and former restaurant trade magazine editor. He has been tracking and writing about the food and dining scene in the greater Westchester area for over 25 years. He may be reached at: 914-235-6591.
E-mail: gutreactions@optonline.net)