Menu Movers & Shakers: Don Coqui Brings Latin Rhythms to City Island
We are part of The Trust Project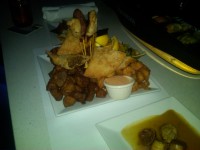 By Morris Gut – When Don Coqui opened in New Rochelle in 2009 just off Route 95 it helped anchor the Queen City's emerging food and nightlife scene. When a new Don Coqui premiered along Mamaroneck Avenue, White Plains, last year it brought its rhythmic 'shortcut to Puerto Rico' right to the heart of Westchester County.  A new Don Coqui has now premiered in a sprawling spot (formerly The Harbor and briefly The Light House) on City Island, and it has added great momentum to the electric Latin-themed dining scene generating throughout the metro area right now.
Don Coqui is the brainchild of hospitality and nightlife entrepreneur Jimmy Rodriguez and his family, his daughters Jewelle and Jaleene, along with son Jimmy Jr., personable hosts who strive to bring the traditional cuisine, culture and spirited music of their native Puerto Rico and the Caribbean to the U.S.  It's a great spot for spring break: they are serving up an exciting dose of dining and nightlife along with dramatic water views through large picture windows. You can see the twinkling lights of Manhattan in the distance.
Don Coqui, City Island, houses a handsome contemporized main dining room, a bustling bar/lounge, banquets and high rise tables in red and white motif with modern lighting fixtures. Off in a corner is a private VIP room (you never know what celebrity you will spot through the window).  A Don Coqui TV poster is on a wall for guests to pose for photos a la The Red Carpet, and the result may just appear on the ongoing video cam. It is fun and exciting. There is plenty of catering space for private events.
Once you start on the colorful cocktail roster consider such signature menu starters as: Chicharrones, crispy marinated chicken chunks or shrimp served with Calypso sauce; Tostones Montaditos, green plantains topped with your choice of shrimp, steak, pork or codfish; Panko Crusted Little Neck Clams, with lemon garlic sauce; Pernil or Pollo Asado, shredded roasted pork or chicken; Empanadas stuffed with shrimp, beef, chicken or vegetables; Deviled Eggs stuffed with codfish; and Mussels or Clams with chorizo, garlic and tomato broth. If you want to share a taste of all order the Don Coqui Appetizer Platter. It's a whopper.
Soothing soups and fresh crisp salads include: Beef, Chicken and Oxtail Stew with Caribbean root vegetables; Octopus or Codfish Salad; Seafood Ceviche; Lobster Bisque or Seafood Gumbo.
Extraordinary main courses served with pizzazz include: Don Coqui Paella, with shrimp, clams, mussels, lobster, chicken and chorizo, also available vegetarian style; Braised Oxtail with white rice and avocado; Pernil, roasted pork with arroz con gandules and potato salad; Chicken & Rice; typical Mofongo topped with shrimp, steak or pork; Ropa Vieja, shredded beef with shrimp, octopus, calamari, clams and mussels; there's even a juicy 10 oz. Don Coqui Burger with all the trimmings.
From the grill come such hearty favorites as: Churrasco y Camarones a la Parrilla, grilled skirt steak and shrimp scampi; Porter House Steak for two; Twin Marinated Grilled Pork Chops; and Grilled Wild Salmon. A host of addicting sides include: plantains, green or sweet; yucca mash or chips; hand cut fries; black bean or pigeon pea rice; and homemade potato salad.
At lunch the house also serves a selection of salads and sandwiches including: Hearts of Romaine Caesar Salad; DC Triplets with pork, chicken and steak; Steak & Onion Sandwich; Roasted Pork Sandwich; and BBQ Chicken Sandwich.
Special Hint: The nightlife schedule has also been updated at Don Coqui. Check ahead for times and dates. There is live Salsa entertainment, and karaoke nights. Don't forget $28 Mondays when patrons get three generous courses of food for this special price.
Don Coqui, City Island is located at 565 City Island Ave. on City Island, Bronx. The restaurant is open for lunch and dinner seven days a week from noon. Starters: $6 to $19. Main courses: $15 to $34. Lunch: $6 to $28. Bar/lounge. Cocktail menu. Bottles. Live music, dancing. Take-out. On and off premise catering for all events. Major credit cards. Valet parking. Proper casual dress. Reservations accepted; advised for larger groups. City Island Phone: 718-885-2222. Main Phone: 914-648-4848. Don Coqui, New Rochelle, is located at 115 Cedar Street, just off Rt. 95. Don Coqui, White Plains, is at 107 Mamaroneck Ave. www.doncoqui.tv
Morris Gut is a restaurant consultant and former restaurant trade magazine editor. He has been tracking and writing about the food and dining scene in greater Westchester for over 25 years. He may be reached at: 914-235-6591. E-mail: gutreactions@optonline.net.