Menu Movers & Shakers: Ciao Ristorante Marks 25 Years
We are part of The Trust Project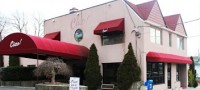 By Morris Gut –
It has been 25 years since Ciao Ristorante was opened in Eastchester by original founder David Gatanfard. At the time, 1988, it was Westchester's first 'trattoria', a designation that took the county by storm for its robust renditions of regional Italian cuisine served in rustic style from an innovative open kitchen. In 1990, a young Zef Deljevic became head chef and by 1999 he had taken over operation of the restaurant. Zef and his friendly staff have kept the 350-seat multi-level establishment bustling daily and in restaurant terms, that's no small accomplishment.
Marking their 25th Anniversary, Zef has been busy renovating and refurbishing the catering rooms downstairs and on the second level. A dramatic new architectural façade with an outdoor deck are in the planning stages.
Meanwhile, Ciao will remain open throughout offering a dynamic updated menu of seasonal Italian specialties served with gusto. Be seated and have Peter, the genial general manager suggest such open kitchen starters as: Hot Antipasto for two, three or more, loaded with delectable fruits of the sea;  or their Antipasto Freddo, a colorful platter from the chef's daily larder; fresh Arugula Salad with goat cheese, marinated Portobello mushrooms, sprinkled with balsamic vinegar; giant Grilled Sea Scallops with wasabi drizzle and roasted bean compote; or a lovely String Bean Salad, fresh green beans, red potatoes, onions, tomato, goat cheese with  roasted garlic and vinegar dressing.
Hearty pastas include: house made Pappardelle alla Francesco, with fresh tomato, basil and chunks of fresh mozzarella; Green Fettuccini Cacciatore, shallots, shitake mushrooms, basil, chunks of chicken, fresh tomatoes, sundried tomatoes and parmigiano; Trinete Tartufo, fresh house made linguini with essence of truffle and seared shrimp; and classic Linguini with Clam Sauce.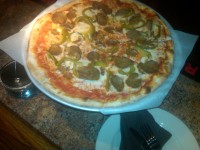 Generous main courses include: Salmon ala Ciao, with white wine, lemon, capers and asparagus;  Veal Salvaggio, decadently good with cognac, garlic, sage, shitake and porcini mushrooms; and Risotto with Seafood, clams, mussels, shrimp, scallops, crabmeat, with fresh tomato, basil, garlic and white wine.
Carnivores will be most happy with selections from the grill: Broiled Veal Chop, Black Angus Shell Steak, Grilled Rib Steak, Sausages Frioli served with peppers (hot or sweet), mushrooms, onions and sliced potatoes, and Pork Chops with vinegar peppers.  All main courses come with fresh house salad. Daily specials augment the regular menu.
Special Hint: the pizzas served here are thin-crusted and delicious, baked in a wood burning oven with your favorite toppings. If you have any room left, try one of the house made desserts or a serving of the gelato from the refrigerated display case. The bar/lounge is cozy and friendly with Carole Ann at the helm most evenings.
Ciao is located at 5-7 John Albanese Place, Eastchester, near Rt. 22. The restaurant is open 7 days a week for lunch, dinner and catering. Main courses at lunch: $8.95 to $27. Dinner courses: $10.95 to $27.95. Private party facilities for all types of events.  Special catering menus. Cocktails. Bar/lounge. Major credit cards. Proper casual dress.  Free and valet parking. Phone: 914-779-4646. www.ciaoeastchester.com
Mansion on Broadway Events
Proprietor Michael Pasqualini of Mansion On Broadway in White Plains has announced two exciting  events that are open to the public by advanced reservation. A Spring 2014 Runway Fashion Show by Jesus & Antonio Estrada (who operate a boutique on Mamaroneck Avenue) will be held on Thursday, Sept. 12. Cocktails will be served in the handsome bar/lounge at the vintage Mansion between 6:30 and 7:30 p.m. Runway show: 8 p.m. Tickets are $50 per person, proceeds to benefit Kids X-Press. For reservations call: 914-747-0519, or e-mail: events@cappacrucy.com
A Pop-Up Restaurant at Mansion On Broadway will include a Golden Knives Challenge on Tuesday, Sept. 17th and show off the talents of Chef Eric Korn of Good Life Gourmet in Irvington and Executive Chef Matthew Safarowic who is now in charge of the Mansion's kitchen. A delightful seasonal 4-course meal will be served from 6 to 10 p.m. The menu will include: Scallop Crudo with apple dashi and pickled radish; Duck Breast with forbidden rice, fennel and roasted apple; Acorn Squash Ravioli, braised short rib and wild mushroom smoked chillies; and Blackberry Panna Cotta with mint cream and brown butter tuille. Tickets are $60 per person. To reserve: Katie@good-lifegourmet.com
Mansion On Broadway is located at 139 Broadway, North White Plains. Phone: 914-949-1492. www.mansiononbroadway.com
(Morris Gut is a restaurant consultant and former restaurant trade magazine editor. He has been tracking and writing about the food and dining scene in greater Westchester for over 25 years. He may be reached at: 914-235-6591. E-mail: gutreactions@optonline.net)