Menu Movers & Shakers: Chinese New Year Dining Suggestions
We are part of The Trust Project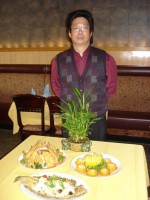 By Morris Gut
The Chinese Lunar New Year, Year of the Horse, falls on Friday, Jan. 31, and Asian restaurants throughout the area will mark the occasion with special events, celebratory dishes and surprises for the whole family. So pick your favorite spot and enjoy the delectable festivities. Call ahead for details and reservations for larger groups are suggested.
Spring Asian in Fleetwood
Charlie Kao, a 30-year veteran of the restaurant business and proprietor of bustling Spring Asian Cuisine in the Fleetwood section of Mount Vernon, is known for showcasing pan-Asian specialties from China, Japan, Thailand, Malaysia and Vietnam.
The popularity of Asian-Pacific cuisines has grown tremendously in recent years, and what makes Spring Asian Cuisine so unique and exciting are the talented chefs in the kitchen each with his own national culinary specialty.
A pleasant Asian décor includes yellow tablecloths, handsome lacquered chairs, Chinese-lettered gold hued wallpaper, oriental vases and fresh orchids at the window looking out onto Gramatan Avenue. The 75-seat restaurant with sushi bar also has outdoor seating in season. Service is friendly and if you have a hard time deciding on what to order from the various cuisines, Charlie and the staff would be pleased to help.
Fresh is a key word here. According to Kao, fish is purchased directly from the market daily, as is the produce. Beautifully plated New Year specialties include such starters as: Thai Tom Yam Soup; Mango & Grilled Chicken Salad; Steamed Shanghai Pork Buns; Vegetable Dumplings; Szechuan Spicy Wonton; and Salt & Pepper Squid. There is a house Pu Pu Platter for two with a variety of chef's selections.
Main courses from the Asian kitchen include: Mango Chicken or Jumbo Shrimp with red and green peppers and special sauce; Thai Seafood Hot Pot, shrimp, scallops, salmon, eggplant, mushrooms, string beans, potatoes and bean curd in mild curry; Chicken or Beef with Satay Sauce, sautéed with yard long beans, sweet peas, onion and peppers in peanut sauce; Sesame Crust Chilean Sea Bass with black bean sauce, with sliced ginger, chives and peppers; Vietnamese Style Grilled Pork Chop, served with sweet & sour sauce on the side; and Taiwan style Crispy Jumbo Shrimp with Walnut, with honeydew, cantaloupe and steamed broccoli in a chef's special sweet honey mustard sauce.
Tasty noodle and rice dishes include: Thai Rice Vermicelli, choice of shrimp, chicken, beef or vegetables; classic Pad Thai; Malaysian Flat Rice Noodles; Yaki Udon and Indonesia Fried Rice Chicken or Beef with 2 chicken satays.
From the sushi bar come colorful and flavorful sushi, sashimi, special rolls, tempura and teriyaki. Platters are available for one or two. Signature hand rolls include: Eel Green Dragon Roll, eel, cucumber, inside out, topped with tobiko and avocado; and the Sunshine Roll, tuna, yellowtail and avocado inside, with tabiko and scallion on top. If you ask the chef, he will prepare unique rolls not noted on the menu.
A variety of specially priced luncheon options and lunch boxes are available daily. Party and catering orders are welcome and there is local delivery. If you want to have a Karaoke party, Charlie will supply the equipment and the stage.
Spring Asian Cuisine is located at 545 Gramatan Ave., Mount Vernon,. in the Fleetwood section. Open seven days: Sunday through Thursday 11:30 a.m. to 10:30 p.m.; Friday and Saturday to 11 p.m. Lunch specials from $7.50. Dinner main courses range: $8 to $36 for Whole Peking Duck. Japanese Rolls: $4.50 to $14. Special Platters: $12 to $50 for the Love Boat for two. Sushi Bar. Cocktails. Full take out. Local delivery. Parties and off premise catering. Major credit cards. Casual dress. Municipal and street parking. Reservations suggested for larger groups. Phone: 914-699-2828. Fax: 914-699-2896.
Aberdeen in White Plains
Over at Aberdeen Seafood & Dim Sum, 3 Barker Ave., White Plains in the Marriot Residence Inn, the staff told us they would be offering special New Year banquets. If you can create a table of four, you can order a special six-course banquet which would include: seafood bean curd soup, salt and pepper squid, crispy fried chicken with minced garlic, sautéed lobster with ginger and scallion, Chinese sausage with vegetable, and yang chow fried rice. There are also packages for 2 to 10 guests. Prices will vary and drinks, tax and tip are additional. Chinese New Year banquets range from: $50 for two guests, $128 for 6, through $438 for 10. You can also celebrate with a run through their popular Dim Sum, or from the regular menu. (914) 288-0188; www.aberdeenwhiteplains.com
Want to Cook it Up Yourself?
If you are an intrepid home cook and want to pull the old wok out of the closet and oil it up, you may want to visit Kam Sen Foods, 22 Barker Ave. in the White Plains Mall (914) 428-4500 for some authentic Chinese ingredients. This Asian market draws quite an ethnic crowd daily for its pan-Asian products, produce, meats and seafood. There's also H-Mart, 371 N. Central Ave., Hartsdale (914) 448-8888. The Chinatown markets in Flushing and Manhattan are great but will take a bit longer to reach. www.kamsenfoods.com or www.hmart.com
Morris Gut is a restaurant consultant and former restaurant trade magazine editor. He has been tracking and writing about the food and dining scene in greater Westchester for over 25 years. He may be reached at: 914-235-6591. E-mail: gutreactions@optonline.net