Menu Movers & Shakers: A 2nd Encore Bistro Premieres in Rye
We are part of The Trust Project
By Morris Gut –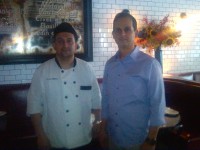 After months of renovation, Lyon-bred David Masliah, proprietor of bustling Encore Bistro Francais in Larchmont, has opened a second Encore Bistro on Purchase Street in Rye. The new 90-seat restaurant is highlighted by white tiled walls and decorative ceramic tiled floors, burnt glass mirrors etched with house specialties, long red banquettes, well-appointed tables and bistro chairs, and colorful French novelty posters. Frosted picture windows look out onto Purchase St.
Special Hint: There is a sparkling marble-topped bar/lounge area that is separated from the main dining room where patrons can enjoy signature cocktails, light meals and weekday Happy Hours from 5 to 7 p.m.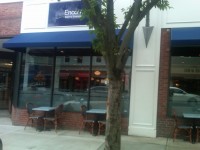 According to Masliah, all dishes at Encore are prepared from scratch by talented Executive Chef Erwen Perez and his kitchen staff. Let seasoned general manager Nicolas Marilhet and the neatly attired floor staff take you on a tour of the new menu. Classic bistro starters include: Soupe a l'Oignon, French onion soup; a colorful and delicious Tatin de Tomates, with baked tomato and feta cheese; Os A Moelle, oven roasted marrow bones with olive oil, parsley and garlic onion marmalade; Pate Maison, country-style pate served with French pickles; Escargots, baked with parsley, garlic and butter; Tartare de Thon, fresh tuna tartar with capers, shallots, anchovies, sesame oil and fresh herbs; and Moules Provencales au curry, steamed mussels in a white wine, caper, olive, tomato, onion and fresh herb broth, or in a creamy curry and white wine sauce.
Follow with a choice of fresh salad: Salade de Crab Cake; Salade de chevre chaud, warm goat cheese toasts over mesclun salad, house dressing; or my favorite Salade parisienne, frisee salad topped with smoked bacon, croutons, mushrooms and poached egg.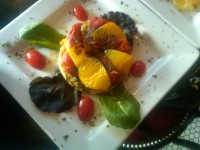 New 'Poissons et Viandes', fish and meat main courses, include such robust bistro fare as: classic Steak Frites, grilled strip loin of beef served with the sauce of your choice; Onglet Grille, grilled hanger steak with choice of blue cheese, green peppercorn, or red wine and roasted shallots; decadent Croustillant De Ris De Veau, sauteed sweetbreads served crispy with whole grain mustard sauce; Carre d'Agneau Persille, sauce a l'ail, roasted rack of lamb in a crust of fresh herbs, roasted garlic sauce; Saint Jacques au beurre blanc, sea scallops in parmesan crust, leek fondue, white wine, lemon and butter sauce; and Truite aux amandes, sautéed trout in an amandine sauce. A signature Lasagnes is prepared with braised fennel, broccoli rabe, Portobello mushroom and béchamel and is served with a creamy goat cheese sauce. By the way, frites here are in this writers' opinion among the best in the county.
A carefully selected wine list covers the realm of French and international vintages. There is a daily selection of wines by the glass and a menu of specialty cocktails.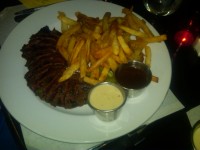 At lunch Encore offers such specialties as: Panini au Poulet Grille, with grilled chicken, roasted peppers, eggplant and mozzarella; Salade nicoise, mesclun, tomatoes, string beans, potatoes, olives, hard boiled egg and grilled tuna; Quiche du jour; and classic Croque-monsieur, hot ham and cheese sandwich with French fries and salad. The Assiette de fromages, an assorted cheese plate is served with apple, walnut and mesclun salad. There is a 3-course prix fixe lunch offered Monday through Saturday for $14.50 per person.
Plates du Jour include: Monday, Crepes night; Tuesday, Mussels night; and Wednesdays, Tartar night offering a choice of steak, tuna, salmon, or scallops tartar. There is a Kids Menu, too. A relaxing a la carte Sunday brunch offers such additional dishes as: Oeufs Benedict; Pain Perdu, brioche French toast with warm berries; and Quiche du Jour served with mesclun salad.
For dessert save room for such changing house made sweets as: Chocolate Fondant, Profiteroles, Creme Brulee, Lemon Tart, and Tart Tatin, the classic French apple tart.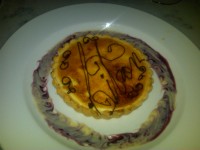 David Masliah originally received his hospitality training at catering and management school in France. Locally he had worked for one of the highly regarded grand dames of French cuisine in Westchester, La Panetiere in Rye. His vision had always been to bring the American dining public as well as the local French community a taste of 'casual home style France' by way of a charming reasonably priced bistro. That was 14 years ago.
I remember when the original Encore Bistro in Larchmont first opened its doors in March of 2000. It was an instant hit. The cozy 45-seat eatery exuded charm reminiscent of the side-street bistros found by the dozens throughout the cities of France. The walls are donned in yellow paint highlighted by colorful French posters and strewn with artifacts. Lining one wall is a row of used French wine bottles along with a collection of corkscrews. The 'petit' bar is lined with wooden wine containers. Several years ago Masliah added a new room that is available for a la carte dining as well as private events for up to 30 guests.
Encore Bistro Francais is located at 67 Purchase Street, Rye and 22 Chatsworth Ave., Larchmont, N.Y., across from the Larchmont Post Office. The restaurant is open for lunch Monday through Saturday from 11:30 a.m. to 2:30 p.m. Price range at lunch: $9 to $18 Prix fixe 3-course lunch Mon-Fri: $14.50. Dinner is served 7 nights: from 5:30 to 10 p.m. Monday through Thursday; to 10:30 p.m. Friday and Saturday, to 9 p.m. on Sundays. Main courses at dinner: $19 to $29. Sunday brunch served 11:30 a.m. to 2:30 p.m. Courses from: $7 to $18. Children's menu: $10.50. Rye bar/lounge happy hours: Mon-Fri, 5 to 7 p.m. Private room available with audio visual equipment. Major credit cards. Casual dress. Free street parking in front; municipal parking at rear of the restaurant. Reservations accepted; suggested for larger groups. Rye phone: 914-481-8833. Larchmont phone: 914-833-1661. Fax: 914-833-1716. www.encore-bistro.com
Morris Gut is a restaurant consultant and former restaurant trade magazine editor. He has been tracking and writing about the food and dining scene in greater Westchester for over 25 years. He may be reached at: 914-235-6591. E-mail: gutreactions@optonline.net.