Menu Movers: Organic Garden and Enclosed Deck at Dubrovnik
We are part of The Trust Project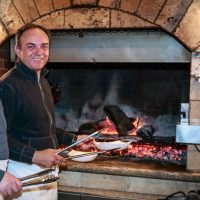 By Morris Gut – Partners Jerry Tomic and Nada Bernic of Dubrovnik Restaurant in New Rochelle are marking the new season with exciting specialties and an upgraded weather-controlled enclosed deck that overlooks their urban organic farm.
Enter the handsome multi-level Dubrovnik Restaurant and there is a bar/lounge to the right with a dozen seats semi-divided from the main 49-seat dining room. The beige and brown stone and wood motif is reminiscent, Tomic would say, of his grandfather's home in Croatia. Handsomely dressed tables and chairs add polish. A ship's wheel on the wall symbolizes the sea. "I love the sea," Dubrovnik said. "As a child I had to ferry from my island home on the Adriatic almost every day." Vintage photos of his native Croatia highlight the walls.
In the rear of the restaurant there is a dramatic newly enclosed outdoor patio with a hand-crafted wood burning rotisserie brick oven just waiting to sear fish, meat and signature specialties from home like whole BBQ lamb. Grape vines hug the brick walls. Downstairs you can see neat rows of herbs and vegetables growing in season in the lush organic urban garden. In the center is a soothing European style fountain for meditation. It is most impressive. The deck is a wonderful spot for cocktails or a meal.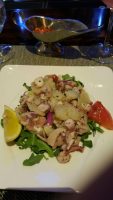 Ms. Bernic promises to continue using only the finest ingredients she can find in the seasonal marketplace. In season, they grow much of their own organic herbs and vegetables. Local farms and organic products will be resourced as much as possible. And most everything will be house made from the bread to desserts.
"Fresh food, simply prepared is the Croatian way", say partners Tomic and Bernic. "At Dubrovnik specialties of the house are contemporized and beautifully plated by our talented Head Chef Antonio Selendic in contemporary fashion." Reciting of the daily specialties includes a showy presentation of the daily catch brought out on a large silver tray.
Fine starters include: Grilled Jumbo Shrimp, over a medley of grilled vegetables; Warm Octopus Salad, with potatoes, extra virgin olive oil and garlic; Adriatic Cuttlefish Risotto with ink; Fresh Anchovies marinated in Croatian olive oil and lemon juice, served on a bed of arugula; and a Dalmatian Platter with aged cheeses, smoked and cured meats.
Delightful pastas include: Veal Ragu, veal with homemade gnocchi; and Pasta 'Lopud', half lobster with wild tiger shrimp over homemade fettuccini in chef's tomato sauce.
Main courses include a changing variety of fish, seafood, meat and poultry options: Spit-Roasted Baby Lamb, Goat or Pig (must be ordered a day in advance); a Mama Teresa Special of Lobster, Shrimp, Scallops, Fish, Clams and Mussels steamed in a seasoned broth over pasta; Sautéed Chicken Breast stuffed with julienne vegetables and basil pesto, served with mashed potatoes with field mushrooms and truffle oil; Grilled Lamb Chops with rosemary-garlic sauce served with potato croquets; Grilled Tuna over arugula pesto puree and grilled squash; Grilled Fillet of Salmon with tomato, basil and herbs over asparagus risotto; Pan Seared Pork Chop served with steamed potatoes in garlic sauce; Roasted Free Range Organic Chicken in natural sauce with roasted potatoes, onions and carrots; and Aged Rib Eye Steak grilled with steak fries or mashed and green pepper corn sauce. Daily specialties augment the regular menu.
Homemade desserts include: seasonal fruits and pastries; Palacinke, Croatian style crepes, and a delightful Croatian flan called Rozata.
Special Hint: There is live guitar music Sunday evenings and a special 3-course prix fixe luncheon is served weekdays for $20.95 per person.
Dubrovnik Restaurant was originally built and operated by founder Jerry Tomic of Top Drawer Custom Cabinetry, New Rochelle, located next door. It caused a sensation here and abroad as the first restaurant to specialize in Croatian cuisine, ambiance and atmosphere in the metropolitan New York area.
Dubrovnik Restaurant is located at 721 Main Street, New Rochelle. The restaurant is open 7 days a week for lunch and dinner, from11: 30 a.m. to 10 p.m., from 3 p.m. to 9 p.m. Sundays. Dinner menu appetizers, soups and salads: $8 to $18; main courses: $20 to $47. Lunch menu main courses: $11.75 to $16.75. Three course Prix fixe lunch: $20.95. Catering and private party facilities. Bar/lounge. Bar menu. International wine list includes Croatian vintages and organic selections. Major credit cards. Proper casual dress. Municipal and valet parking. Reservations accepted; suggested for larger groups. Phone: 914-637-3777. www.dubrovnikny.com
Morris Gut is a restaurant marketing consultant and former restaurant trade magazine editor. He has been tracking and writing about the food & dining scene in greater Westchester for 30 years. He may be reached at: 914-235-6591. E-mail: gutreactions@optonline.net.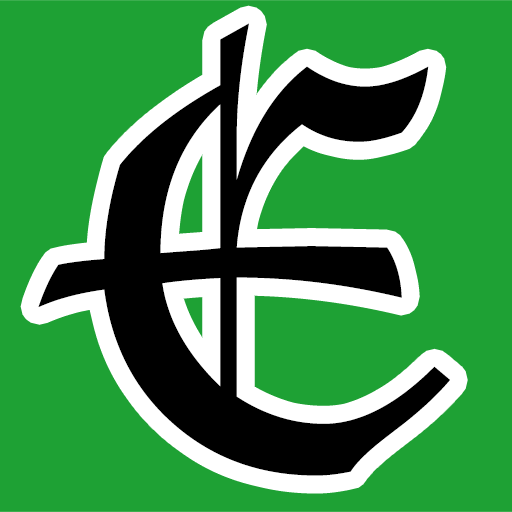 Examiner Media – Keeping you informed with professionally-reported local news, features, and sports coverage.