Menu Movers by Morris Gut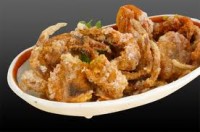 Special Fixed Price Dinners at Sofrito,  Softshell Crab and more …
One of the best dining deals in White Plains right now are the fixed price multi- course dinners served at rhythm-filled Sofrito, seven days a week. Beautifully plated and generously portioned Puerto Rican and Caribbean specialties are included in the three-course Basico: starting with the signature appetizers served family style; choice of such entrees as Roast Pork Pernil with pigeon pea rice; or PR Steak and Onions with rice and beans; then move on to an assorted dessert platter. Cost is: $35 per person. There is also the four-course Classico: starting with appetizers, a second course of soup or fresh salad; choice of five main courses including Salmon in caper sauce with garlic spinach; then finish with dessert. Cost is: $45. The five-course VIP includes the family-style appetizer platter, followed by traditional Sancocho soup with assorted meats, root vegetables, sofrito and corn, then the fresh Sofrito Chopped Salad. There is a choice of five main courses including Paella, or Whole Red Snapper with coconut rice, then the dessert platter. Cost of the VIP is $55 per person before tax and gratuity.
Amiable host and owner J R Morales and his team brought Sofrito up from Manhattan in 2011 and the place is still jumping. It's a fun spot to visit for dining and dancing later in the evening as well. Happy Hours from 11:30 a.m. to 7 p.m. Monday through Friday at the bar; extended to 9 p.m. Thursdays.
Sofrito is located at 175 Main Street, White Plains. Open seven days for lunch and dinner. Municipal and valet parking. Phone: 914-428-5500.  www.sofritowhiteplains.com.
From the Folks at the Iron Tomato, Watch for the Iron Shaker
Under the ownership of the Berg family The Iron Tomato in White Plains appears to be prospering. I seldom see it without patrons surveying the fresh food counters, the cheeses, baked goods and assorted gourmet-style pantry items. Now there is a new sign two stores up boldly announcing: The Iron Shaker, a food studio and cocktail lounge "unlike you have ever experienced before."
I could not help but take up that challenge and walked in the door while still a work in progress. Stephen Berg was there, so was a long bar, booths and tables and chairs ready to be put in place. This space had been Gryphon's Pub, a dart bar, in its previous life. Berg divulged they will be offering a diversified menu primarily focusing on small plates but not limited to one cuisine. He estimates the opening to be in a couple of weeks of this writing. The long narrow room and bar will hold up to 80 guests.
The Iron Shaker is located at 49 Mamaroneck Ave., White Plains. 917-358-9291 www.theironshaker.com
An Ode to the Reuben Sandwich at Dunne's Pub
I was sitting through another convivial Wednesday night Irish music session at Dunne's Pub in White Plains recently when those familiar hunger pangs came on. What was I in the mood for at this hour? Well, I let my cravings take over. I just had to bite into an overstuffed Corned Beef Reuben. And I knew that this kitchen made one of the best, oozing with its meaty-cheesy delights along with a dose of crunchy sauerkraut and a smear of mustard. (I got mine with a side of mashed with gravy.) A good frothy Guiness was nearby, too. Well, it was everything that I had longed for, tender and delicious. Even my friends down at the 2ND Ave. Deli in the big city would be proud of this one.
Then I remembered that Sean Dunne also serves an Oktoberfest menu the first Thursday of every month. I will definitely be by to try it; can't always wait for fall you know.
Dunne's Pub is located at 15 Shapham Place, White Plains, just off Mamaroneck Ave. Open 7 days a week for lunch, dinner and Sunday brunch. Municipal parking. Phone: 914-421-1451 www.dunnespubandrestaurant.net
Two Spots to Enjoy Soft Shell Crab
Soft shell crab season is here. For aficionados of this seasonal delicacy it is a joyful mouth-watering time. Whether you like them sautéed, fried, or stuffed into a crunchy sandwich this Chesapeake specialty is starting to show up on menus throughout the area, more frequently as market prices come down.
Proprietor/self-taught chef Walter Ricci of La Piccola Casa in Mamaroneck is one of my favorite sources for this dish. They are a must sautéed, plump, meaty and juicy. He usually has them in the kitchen on weekends, but check ahead just to make sure.
La Piccola Casa is located at 410 W. Boston Post Road, Mamaroneck, across from Harbor Island Park. The restaurant is open 7 days a week for lunch and dinner. Free street parking. Reservations accepted. Phone: 914-777-3766.

Chef Peter X. Kelly is offering his variations on Soft Shell Crab at lunch and dinner throughout his restaurant domain. His popular Thursday Feast in the Dylan Lounge at X20 in Yonkers recently included soft shell crab seared crispy with seasonal grilled ramps, Russian fingerlings, artichokes, crab butter and black pepper. He surrounds the meal with a fresh seasonal salad and house dessert. The fixed price meal usually runs about $35 per person before tax and gratuity.
Xaviar's On The Hudson is located at 71 Water Grant Street, Yonkers. Phone: 914-965-1111. www.xaviars.com
Morris Gut is a restaurant consultant and former restaurant trade magazine editor. He has been tracking and writing about the food and dining scene in greater Westchester for over 25 years. He may be reached at: 914-235-6591. E-mail: gutreactions@optonline.net