Meditative Life Series Returns to Jacob Burns Film Center
We are part of The Trust Project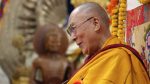 If you're looking to get a little more out of life, it might be wise to make it to the Jacob Burns Center this month.
Nine documentaries and one fictional feature, along with several guest speakers, will be spotlights as part of The Meditative Life 2018: Meaning, Happiness, and Connection series held now through Feb. 27.
Films for the 2018 series, the sixth year it has been scheduled, were selected by Burns founding director of programming Brian Ackerman, programmer Karen Sloe Goodman and guest programmer Sharon AvRutick.
Goodman said topics covered in the series include mediation, mindfulness and how people examine the human experience.
This year's includes the screening of the short documentary, "Ram Dass: Going Home," directed by Derek Peck. Goodman said Dass is considered one of the most important spiritual leaders of our time, speaking about his personal practices and philosophy. The film sets the tone for series, she said.
Following the opening night screening, Garrison Institute & Westchester Buddhist Centerco-founder Jane Kolleeny will moderate a question-and-answer session with Krishna Das, who spent the late 1960s as a student of Ram Dass. He is the author of "Chants of a Lifetime: Searching for a Heart of Gold."
Since the opening night program is sold out, there will be a second screening of "Ram Dass: Going Home" later this month, Goodman said.
"The Last Dalai Lama?" a documentary released last year directed by Mickey Lemle, will be shown this Thursday, Feb. 8. Lemle, who has been making films since 1971, has interviewed the Dalai Lama multiple times. After the screening, h he will participate in a Q&A.
The one non-documentary in the series is "Novitiate," the 2017 film directed by Margaret Betts. It will be shown on Feb. 13. It's the story of young woman raised by a single mother in rural Tennessee, whose spiritual hunger sets her on an unexpected path of becoming a nun in the early 1960s.
Goodman said the Meditative Life series has become a highly popular series at the film center.
"There are so many people in Westchester who are engaged in the messages of these practices," she said.
This year's series is being presented in partnership with the Garrison Institute & The Westchester Buddhist Center and made possible by The Gail Wagner Shenkman Fund.
The Jacob Burns Film Center is located at 364 Manville Rd. in Pleasantville. Call 914-747-5555 or visit www.burnsfilmcenter.org for the schedule, tickets and all information.