Mayfield and Murphy Celebrate Inductions in NYS Basketball Hall of Fame
We are part of The Trust Project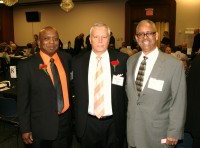 Sunday, March 13, was the 23
rd
birthday of Amber Mayfield, the daughter of Spencer Mayfield, who has been the Head Coach of Boys Basketball at White Plains High School for 23 years.
It is ironic that Mayfield started his career at WPHS the same year that Amber was born. Now 23 years and nearly 350 wins later, on her birthday, Mayfield was being inducted into the New York State Basketball Hall of Fame by the Basketball Coaches Association of New York, at the Glens Falls Civic Center.
"It is fantastic! It is somewhat overwhelming and humbling. I am honored to be going in with so many great coaches and people that I know and respect and to be mentioned in the same breath with them, it is almost surreal," said Mayfield.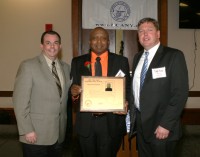 In 1994, his first season with the Tigers, Mayfield led them to the Class A State Championship, the first in the school's history. He won the Class A Title again in 1999 and also accumulated eight League, two Sectionals and two Regional Titles during his career. "I am so proud of my husband he is a coach of all coaches. He just loves the game of basketball and this is a thrill," said Mayfield's wife Theaudry.
Including family, friends and staff of WPHS, about 40 people traveled to Glens Falls to celebrate with Mayfield. Tigers legendary Girls Basketball Coach Sue Adams made the drive with Physical Education Instructor Laura Owen. "It is great to be up here to see Spencer recognized in this manner. I enjoyed working with him for so many years. He is a real master of the sport and he is great with the student/athletes," acknowledged Adams.
Mike DeMello played for Mayfield during his junior and senior years (2013-'15), after transferring from John F. Kennedy Catholic. "Transferring to White Plains was the best decision I ever made in my life. Coach Mayfield was like a father to me. He was one of the best people in my life at that time," said DeMello, who now is a sophomore at Pace University.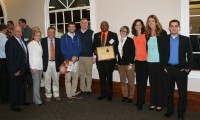 Also inducted into the NYS Basketball Hall of Fame this year was Mayfield's longtime friend and neighboring adversary, Woodlands High School Head Basketball Coach Robert Murphy. "It feels great. I am humbled by it. For me it is the culmination to have worked with so many young men and girls and formulated some things for them in life and basketball," said Murphy.
Murphy also had a heralded coaching career at Poughkeepsie High School, before coming to Woodlands and is presently the Interim Athletic Director at Poughkeepsie H.S.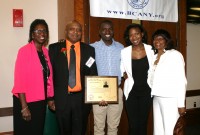 One young man Murphy had the opportunity to help was Caval Haylett, an 18 year-old honor-roll student, who died tragically after being shot in a spray of gunfire in Poughkeepsie, on Wednesday, March 9.
"I was overwhelmed by that, we developed a relationship where he was the most turned around person that I had ever witnessed, he was a great child and tremendous player," Murphy said with great emotion.
Matt Cameron the Athletic Director at WPHS was the A.D. at Poughkeepsie High School from 2006-'15, before coming to White Plains. "I knew Caval Haylett very well. I certainly feel for the Haylett Family and the Pioneer family,"commented Cameron, who attended the Hall of Fame Inductions to support Mayfield.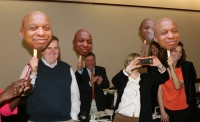 The late Sam Kalloch, who coached 42 years at Poughkeepsie High School, was also inducted posthumously in the NYS Basketball Hall of Fame. RIP Caval Haylett, may no more of our youth leave us in this manner.