Mayer Wins Special Election for 37th NYS Senate Seat
We are part of The Trust Project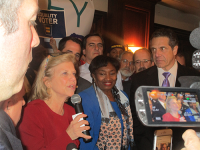 In an election that received national attention, Democratic Assemblywoman Shelley Mayer of Yonkers triumphed over Republican Julie Killian to capture the 37th state Senate District seat Tuesday night.
Mayer topped Killian, a former Rye councilwoman, in a special election called by Gov. Andrew Cuomo in February by a 58 to 42 percent margin with 87 percent of districts reporting. Mayer will fill the seat left vacant in January by Westchester County Executive George Latimer when he assumed his new elected office.
"We weren't just a blue wave, we were a big tent blue wave that created a partnership between our progressives, our Democrats, our union leadership and a whole lot of other people who are against the politics of hate and division that are sewn to the other side in the campaign," Mayer said.
With Mayer's election, Senate Democrats hold a 32-31 majority, but still don't have control of the body for at least the rest of the legislative year. State Sen. Simcha Felder, a Brooklyn Democrat that conferences with the GOP, confirmed Tuesday afternoon he will continue to caucus with Senate Republicans.
Mayer received the backing of Cuomo and Latimer with both men attending rallies in her support. She also was endorsed by various labor unions and progressive organizations. Killian received the backing of former governor and Putnam County resident George Pataki and law enforcement and business groups.
Killian, at Ciao Restaurant in Eastchester, thanked her supporters that either campaigned  or casted a ballot for her.
"I really wanted to help all you guys out there. I heard a lot of stories, there's a lot of great things about living in New York, there's a lot of great things about living in Westchester, but we do have some things going on and I was really hoping I'd get that platform."
A couple of times, supporters chanted "November" encouraging her to run again for the seat this fall when every senate seat in the state is up for grabs.
When asked by The Examiner if she would consider running again for the seat in a few months, Killian said it's something she'd think about.
"I'll think about that tomorrow. Right now I'm going to hang out here with my friends and family, get a good night's sleep maybe" Killian said. "I'm not at the train station tomorrow morning."
The race between Mayer and Killian got ugly at times. Mayer was accused of failing to do more to assist two female Senate staffers after they came to her to complain about harassment from male bosses when she was legal counsel for the Democrats in 2010. Killian also went after Mayer for having campaign operatives on her staff that were critical of law enforcement, including vulgar statements on social media.
Killian faced heat when it was a discovered a person that threw a fundraiser for her directed insults toward survivors of the Parkland, Fla. school shooting on social media. Killian also was called a "Trump Republican" consistently during the campaign with opponents hoping to tie her to President Donald Trump.