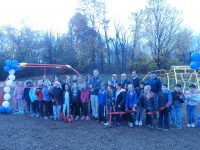 Students at Mathew Paterson Elementary School didn't have a care in the world last Thursday as they enjoyed new playground equipment provided by the school's parent teacher organization and New York State Sen. Terrence Murphy.
Murphy, PTO members, Carmel school district officials, and most importantly, smiling students, were all on hand to cut the ribbon to the new and improved playground on a sunny afternoon.
PTO president Alison Hooten said there used to be a blue and orange playground at MPES that was outdated and unsafe. Parents fundraised last year and this year and with help from Murphy, they were able to reach just under $40,000 to purchase new equipment.
The PTO organized a penny social, a color run, a book fair and holiday shop to raise as much money as possible, Hooten said.
"We had a lot of fun and it was a lot work, but it was totally worth it to see them all pay today," Hooten said.
Hooten said it was "awesome" to see children throughout the day get to play on the new playground and each grade had a mini ribbon cutting to usher in the new play area. Hooten, who has a daughter that will be graduating MPES this year, called the finished project fulfilling.
Superintendent of Schools Andy Irvin said there was an old piece of equipment that was unusable for the age of children playing–a couple injuries occurred on it–so the district had to close it down. Parents were rightfully upset, Irvin said, that a big piece of equipment couldn't be enjoyed by young students.
That's when the PTO and Murphy stepped in, Irvin said.
"They came through with flying colors," Irvin said.
Murphy said when his office found out about the lack of playground equipment at the school he was able to secure a state grant toward the effort.
"So we found some extra money to help out those that most deserve it," Murphy said. "Our youth."