'Mary Poppins' Warms the Heart at Westchester Broadway Theatre
We are part of The Trust Project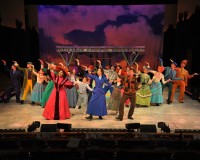 The beloved "Mary Poppins: The Broadway Musical" debuted at Westchester Broadway Theatre last Friday to a full house, proving that the feel-good production is as popular as ever with audiences of all ages.
This version of 'Mary Poppins' has been created in collaboration with Disney and Sir Cameron Mackintosh, a British theater producer known for his association with several commercially successful musicals.
The re-imagined show, directed and choreographed by Richard Stafford, also includes new songs and additional music and lyrics by George Stiles and Anthony Drewe under the direction of Leo Carusone.
But the show is filled with a familiar songbook that includes "A Spoonful of Sugar," "Supercalifragilisticexpialidocious" and "Chim Chim Cher-ee." Based on the 1964 Disney film, this production celebrates WBT's 40th anniversary and 184th production.
It's the very talented Lauren Blackman, playing the part of Mary Poppins, who contributes to the success of the almost three-hour production. Blackman, who recently came off playing the same role at the Maine State Music Theater, is effortless in her portrayal of the English nanny who flies into the home of George and Winifred Banks to provide some discipline for their unruly children.
Listening to Blackman's crisp, powerful execution of the show's playlist is reminiscent of Julie Andrews, who played the role in the original film.
But Blackman makes her performance her own, convincing the audience with her grace, elegance and sense of wonder that feels perfect for the part of a magical nanny who can be stern, yet a refreshing influence on the youngsters.
Her performance is nicely complemented by Leo Ash Evens in the role of Bert, a street-smart jack-of-all-trades and a narrator of sorts in retelling the story of Mary, which was originally created by Australian-British novelist P.L. Travers as a series of children's novels. With a spot-on Cockney accent, you can't help but love the endearing chimney sweep.
The children in the opening night's production, Michelle Moughan (Jane Banks) and Gabriel Reis (Michael Banks), the mischievous rascals who never quite live up to their father's expectations, are truly delightful throughout the entire performance.
Jane Shearin and Brandon Singel (a sixth-grader at Louis M. Klein Middle School in Harrison) serve as alternates for the parts.
In several numbers, the children effortlessly sing along with Mary, such as in "Practically Perfect," where she sets the stage for her role as child minder. She proceeds to take out numerous items from her carpet bag, including a lamp, a mirror, a coat rack and a tape measure, much to the children's bewilderment.
Aside from the show's toe-tapping familiar numbers, there are a few poignant moments, too, like the introspective "Being Mrs. Banks," sung by Leisa Mather, "A Man Has Dreams," performed by Joe Dellger (George Banks), and "Feed the Birds," excellently delivered by Laura Cable, who plays the Bird Woman.
A charismatic ensemble and an inventive stage set that alternates between the Banks' home, Mr. Banks' office, the children's bedroom, a park down the street and the rooftops of London, makes this show a hit and every bit as good as any Broadway production you'll see.
"Mary Poppins: The Broadway Musical" is playing at Westchester Broadway Theatre through July 27. For show times and tickets, call 914-592-2222 or visit www.broadwaytheatre.com.
Colette Connolly is a copywriter and p.r. expert. She owns Connolly Communications, which is based in Bronxville, New York. Colette specializes in providing content-rich, SEO-optimized press releases, articles, newsletters, brochures, and customer success stories.