Obituary Reports the death of an individual, providing an account of the person's life including their achievements, any controversies in which they were involved, and reminiscences by people who knew them.
We are part of The Trust Project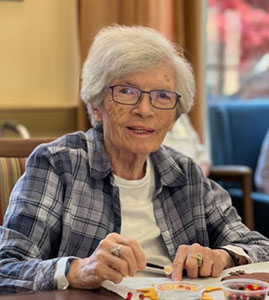 Mary Ann Dowd Cappiello, 85, passed away in her sleep surrounded by her family on Apr. 24 after a brief illness.
Mary Ann was born on Feb. 18, 1938, to John Michael Dowd and Mary Marsh Kilker Dowd. She grew up in the Pelham Bay section of the Bronx and spent summers at her mother's ancestral home in Jermyn, Pa., reading, riding her bike and swimming.
She attended Our Lady of the Assumption Elementary School and St. Helena's High School (now Monsignor Scanlon), and graduated with a Bachelor of Science in home economics from Marymount Manhattan College in 1959. She received a master's degree in education, with a focus on reading, at Fordham University in 1997.
Mary Ann was a beloved preschool teacher in Pleasantville, and an elementary school teacher in New York City public schools and at the Convent of the Sacred Heart in Greenwich, Conn. Over the course of a 40-year career, she instilled a passion for learning, achievement and faith-inspired activism in generations of girls. But she was perhaps best known for her positive disposition – and a smile that could truly make your day.
She was a cherished member of the Pleasantville community and could often be seen on her porch, greeting and chatting with neighbors and passersby. The door was always open, and there was always room to squeeze one more person around the dining room table. Mary Ann's spunk, wisdom and love for others made her an inspiring force in the lives of those who crossed her path.
Mary Ann cherished her summer vacations on Martha's Vineyard with the family, skipping around the Oak Bluff gazebo, picking up scones and gingerbread at the Scottish Bakehouse and swimming in the ocean. In later years, she enjoyed vacationing in York, Maine. She was always ready to join friends for lunch or dinner, to visit family for the weekend or spend the day exploring a new place on a day trip.
In the decades in which Mary Ann was raising a family and teaching, she also devoted herself to community service. For the Pleasantville High Performing Arts, she publicized and sold tickets for the annual spring musical. At Holy Innocents Parish, she taught Christian youth development in her home, served on the Liturgy Committee and as a eucharistic minister and co-chaired the 1987 dedication of the new church building. She also volunteered on the nationwide Faculty Development Committee for the Convent of the Sacred Heart Network of Schools.
Mary Ann is survived by her husband, Bob Cappiello of Pleasantville; by her children and children-in-law, John Paul and Kathleen, Mary Ann and Tim, Christopher and Allan and Robert and Michele; and her six adoring grandchildren, Mary Kate, Rosie, Ella, Marissa, Mark and Jude. She is also survived by her brother, Jack Dowd; her brothers-in-law, Jim Feeney and Gerard Geoffroy; her many nieces and nephews; and her cousin, Marilyn Moran Ferguson. She was preceded in death by her parents, as well as her sisters Margaret (Peggy) Dowd Feeney and Anne Dowd Geoffroy.
A wake was held on Apr. 30 at Beecher Flooks Funeral Home in Pleasantville. A funeral mass was held on May 1 at Holy Innocents Catholic Church in Pleasantville. In lieu of flowers or gifts, the family requests that donations be made to Monsignor Scanlon High School in memory of Mary Ann Dowd Cappiello.
The Cappiello family is thankful to the staff at Atria-on-the-Hudson in Ossining for the thoughtful, caring support they have provided Mary Ann since 2020. They treated her like family and we are forever grateful.