Mark Slouka's 'Brewster' Earns Praise
We are part of The Trust Project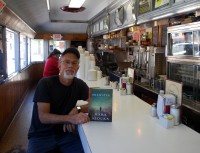 Novelist Mark Slouka was born in Queens and spent his childhood moving throughout the United States, living for part of his youth in a cabin in Brewster's Putnam Lake.  His first novels, however, were set in Europe, his parents' homeland.
"My mom and dad were Czech refugees. They escaped in 1948," Slouka explained. "My dad was in the resistance in the Second World War, so I've spent a lot of my life sort of wrestling with their stories."
For his latest book, titled and set in "Brewster," Slouka decided to zero in on his experience rather than his heritage. "Brewster" takes place in the late 1960s, with the Vietnam War and Woodstock deep in the background but the focus on 16-year-old Brewster High School student Jon Mosher's search for belonging in school and difficulties at home.
"Writing this was like coming home," Slouka said in an interview last week at Bob's Diner, a village landmark mentioned in the novel. "I think I just fell in love with how people talk around here. I mean, it's profane, it's poetic, it's got that whole ethnic New York richness. And as a writer, that's gold."
The book is fiction and far from autobiographical – Slouka never attended Brewster High School – but Slouka acknowledges he does "steal from real life" and Mosher's character is in many ways based on the author's experience growing up. The book's narrator starts coming out of his shell after joining the track team, and Slouka himself ran track including a year on the team at Ardsley High School.
"I had more heart than talent, but I was pretty good," he recalled. "I mean, I still run, I just run a little slower."
Slouka incorporated his family background in Mosher's parents, German Jews who escaped the Holocaust but faced tragedy at home when Jon's older brother died. Slouka didn't lose a sibling and his parents weren't Jewish, but like Mosher's their experience in Europe during World War II took an emotional toll.
"Seven years of occupation was a long time," Slouka said. "My father was a journalist, and he had to cover the hangings and all the executions. I don't think he was ever the same after that."
Slouka, also a contributing editor at Harper's Magazine, wasn't without reservations when he broke from his history of writing novels set in Europe.
"I was nervous as hell. I think you're always nervous when you take a different path," he said. He added jokingly, "The seven readers that I have, I was worried they'd be thinking, 'What's this guy doing?'"
Any worries he had have proven unfounded, as "Brewster" has been by far his most acclaimed work and is on its way to becoming his best seller. The book has earned glowing reviews all around, from The New York Times, Boston Globe, Washington Post and countless others.
"Slouka's real triumph here is capturing the amber of grief, the way love and time have crystallized these memories into something just as gorgeous as it is devastating," Ron Charles writes in the Washington Post.
Kathy Lord, a 30-year Brewster resident, said a co-worker passed the book along to her and she was fascinated by Slouka's language.
"I picked it up and I had a really hard time putting it down," Lord told The Putnam Examiner. "To me, the fact that it was based in the town was incidental but it's really interesting to read something where you don't have to imagine the places."
If Slouka, 55, feels comfortable writing about a previous era it may be because he's slow to embrace some of the 21st century's innovations. He doesn't have a Facebook page or even a cell phone, and his first book warned about the dangers of technology. When he writes, he prefers to write by hand while locked in his 7-by-7-foot shack in Putnam Lake.
"From early May to mid October, it's a great place to work because it cuts all the [bull]," he said. "There's no interruptions, there's no phone, there's no internet, there's no nothing."
Slouka said his childhood was somewhat nomadic and Brewster, where he often spent his summers, was the closest thing he ever had to home. He was living in Winslow, Ariz. when he inquired whether the cabin he had rented in Brewster, where he spent four years writing the novel, was available.
"We knew we had to get out of Winslow," he said. "My wife's asthma started kicking up from the dust storms, and that was tough. Plus we were living opposite the crack house."
When Slouka called the landlord, he found out the cabin was for sale and jumped at the opportunity to own his first home. Though times have changed, he found Brewster is in many ways as he remembered in his childhood.
After his success with Mosher's character, Slouka doesn't plan on quitting while he's ahead. His next book, he said, will be a sequel that takes place when Mosher is in his 50s.
"Characters can become very real. Sometimes you're done with them and sometimes you're not, and I just felt like he wasn't done with me," Slouka explained. "Sequels could be a real cop out too, because it means you don't need to come up with anything new. But in this case I felt good about it."
For now, though, Slouka's time is tied up in some of the duties that come with success as an author such as book signings and touring. He recently signed 3,500 books in Scranton, Penn.
"You've got two guys opening books to the title page, and there's a guy to your right who takes the book from you, then the person to his right," Slouka explained. "I was signing 19 a minute."
So far, Slouka said, most readers of "Brewster" have been people his age who remember growing up in the 1960s. The author's hope, he said, is eventually people Jon Mosher's age will discover what is essentially a coming-of-age tale.
"I would love to see 17-, 18-, 19-year-old kids reading this book, because I wrote it for them. It's written for the 17-year-olds like I was, because things haven't changed that much," Slouka said. "I want it to be the kind of book that you're hiding in your coat so the principal won't see it."
Next month, on September 22 at 3 p.m., Slouka will be reading from the book at an event at Studio Around the Corner in Old Town Hall. Brewster natives, Slouka said, have been particularly appreciative of his latest work.
"I think most people understand that 'Brewster' the book, it's not a history. It's not a documentary film. It's a novel," Slouka explained. "But it captures something. I mean, Brewster has sharp elbows. It's still a tough little town in some ways."