Manor Inn Brings Continental Flair Back to Westchester
We are part of The Trust Project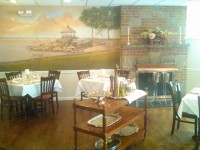 By Morris Gut – 
Take a restaurant location with a long history, meld it with a veteran operating team who have taken great care to maintain its setting and esteem, and you have the opening of the Manor Inn on Boston Post Road in Larchmont.
The freestanding house had a long run as La Cote d'Argent from the 70's through the early 90's, and most recently had been home to LaSala Restaurant. Now after an enhancement to the multi-level premises seasoned proprietor Robert Pastore and his partner Seamus Costigan are bringing back the Continental flair once on display here along with a nod to present culinary trends.
The kitchen is in the hands of a talented crew including Head Chef Michael Pastore, who with his brother bring more than 40 years of experience with them, Chef Moses Salmon and Chef Frank Carlucci, each having spent years in some of Westchester's most notable establishments.  And, as Robert Pastore notes, you will not see many menus like this. That is because it espouses the best of the traditional with the modern, touching on American, Italian and French roots and not bound by borders.
Fine starters on the opening menu include: Manor's Escargot; Iced Lump Crabmeat Cocktail; Prosciutto di Parma, Grana Paduano Cheese and Figs (seasonal); Lobster Salad served with greens and Manor dressing; Caesar Salad for two prepared table side; Iced Blue Point or Beausoleil Oysters; and Buffalo Mozzarella with garden ripe tomatoes, pea pods and basil.
Hearty pastas are priced by half or full orders. Included are: Crab Meat Manicotti in a cream sauce topped with fresh lump crabmeat; Macaroni with Black Truffles (seasonal); Wild Mushroom Risotto, with shitake and Portobello; Homemade Gnocchi, potato gnocchi with a veal ragu sauce; Lobster Risotto with a combination of seafood: shrimp, scallops, calamari and octopus; and House made Ravioli Quattro Formaggio, four cheese ravioli in a cream sauce with sun dried tomatoes, shallots and porcini mushrooms.
Beautifully plated signature main courses combining the traditional and contemporary include: King Salmon in Puff Pastry, shallots and parsley sauce, served with baby carrots and pan seared roasted garlic potatoes; Braised Veal Shank mashed potatoes with truffle and julienne vegetables; Dover Sole with Cauliflower puree, served with peeled new potatoes and sautéed spinach; Rack of Baby New Zealand Lamb, served with mint jelly glaze, wild rice and potatoes; Alaskan King Crab Legs, split and served with a garlic or pesto sauce, baked mashed potatoes and Brussels sprouts; old-fashioned Twin African or Brazilian Lobster Tails served with drawn butter, mashed shallot potatoes and asparagus; Oven Roasted Halibut with Dijon sauce served with mixed sautéed baby vegetables and wild rice pilaf; classic Chateau Briand for two, roasted potatoes, seasonal vegetables and béarnaise sauce; and Roasted Chicken Le Manor, baked with slices of prosciutto, served with risotto and seasonal vegetables. Daily specialties augment the regular menu. A luncheon menu is also served. The dessert cart beckons with its fresh selection.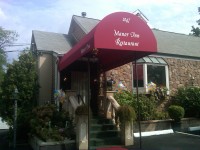 Manor Inn Restaurant is located at 2047 Boston Post Road, Larchmont. The restaurant serves lunch Tuesday through Friday, noon to 3 p.m. Main courses at lunch: $13 to $19. Dinner is served Tuesday through Saturday from 5 to 10 p.m. Sundays, 5 to 9 p.m. Main courses at dinner: $22 to $39. Some dishes market priced. Early 3-course fixed price dinners: $34.50. Bar and cocktails. Private party room for up to 50 guests. Proper casual dress. Free parking. Reservations requested: 914-732-3100. Website pending.
Morris Gut is a restaurant consultant and former restaurant trade magazine editor. He has been tracking and writing about the food and dining scene in greater Westchester for over 25 years. He may be reached at: 914-235-6591. E-mail: gutreactions@optonline.net