Manhattan and Fordham Basketball Led by Stepinac Alumni
We are part of The Trust Project
Manhattan College Head Coach Steve Masiello is credited with bringing respect and a winning attitude back to the Jaspers Basketball Program. Furthermore, Masiello earned that recognition by establishing the biggest turnaround in the nation for a college basketball program last year.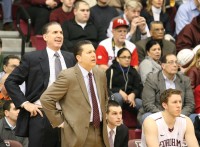 In his first year as a Head Coach, Masiello took Manhattan from a 6-25 record in 2010-'11 to a 21-13 record in 2011-'12, which was captioned by a second round appearance in the CollegeInsider.com Postseason Tournament.
However, Masiello's second season with Manhattan came with unexpected challenges. Jaspers' senior guard George Beamon was injured two days before the season opener against Louisville University. Beamon was the Metro Atlantic Athletic Conference (MAAC) Scoring Champion last season. Beamon averaged 19 points per game last season and totaled 1,131 career-points at Manhattan after his junior year.
It was very much anticipated this season with junior guard Mike Alvarado and sophomore forward Emmy Andujar of Rice High School fame, with center Rhamel Brown, the 2013 MAAC Defensive Player of the Year, added to the offensive prowess of Beamon, that the Jaspers would contend for a MAAC Title this season.
Nonetheless, Beamon could only manage playing four non-conference games at the beginning of the season, which left Masiello without his key offensive threat this year.
Manhattan struggled as they got acclimated to life without Beamon. The Jaspers record in December and January was 4-11. "I did a bad job because I did not change. I did everything the same kind of holding out hope that George would come back. We did not make adjustments until early January, when we started playing inside through Rhamel," explained Masiello.
Masiello's realization and modifications helped Manhattan close their 2012-13 regular season with a 6-9 record, while even beating rival Iona College, 74-73, in double-overtime, on February 15, in Riverdale. Brown ended the regular season with 18 double/double games, as the offense worked through him.
Manhattan finished the regular season with a 9-9 MAAC record, which was good enough for a six-seed and a first round bye in the MAAC Tournament. The Jaspers overall record remained 12-17, this season.
The Jaspers defense was the key to their late push this year. The Jaspers defense lead by Manhattan's All-Time shot blocker Brown (235) was the best in the MAAC this season.  "The identity of our basketball team had to change; we realized that we were not Iona of Niagara and going to score 95 points. But what we could do is guard pretty good and make it tough for you to score," explained Masiello.
Masiello is a White Plains native, who presently lives in White Plains. He will lead his Jaspers to Springfield, Mass. for a matchup against the number three-seed Loyola Collage, on Saturday, March 9, in the 2013 MAAC Tournament.
Stepinac's Tom Parrotta Teams with Tom Pecora Again
Tom Parrotta is a 1984 graduate of Stepinac High School, who was inducted into the Stepinac Hardwood Club (Basketball Hall of Fame) in 2010.
Parrotta played four years of college basketball at Fordham University from 1984-'88, after graduating from Stepinac. Parrotta remains in the top 10 in rebounding and the top 30 in scoring all-time at Fordham.
Parrotta returned to Fordham University this year, as an assistant coach under Head Coach Tom Pecora, after a six-year stint as Head Coach at Canisius College. "It is a great plus to be here at Fordham. I had a great experience and a great run and now I am going to carve out a new experience and hopefully parlay this to further my career," stated Parrotta.
This is not the first time Parrotta has worked on a Pecora coaching staff. They had success together at Hofstra University from 2001-'06, along with present Fordham Associate Head Coach David Duke. Under Pecora, Parrotta and Duke, Hofstra won 26 games in 2005-06 and advanced to the second round of the National Invitational Tournament.
"First and foremost Tom (Parrotta) is a very good big-man coach," declared Pecora. "I also think it is great that he is an alumnus. He was a good player at Fordham, which helps us tremendously with recruiting. Because players' parents can look at Tom and say, this is a Fordham man," commented Pecora.
Fordham (6-23, 2-12 A 10) will not make the Atlantic 10 Tournament this season. However, with the return of junior guard Branden Frazier, freshman forwards Travion Leonard and Ryan Rhoomes, with freshman guards Mandell Thomas and Jeff Short, the Rams should make a push for A 10 respectability next season.