Man Arraigned in Hit and Run Death of Tow Truck Driver on I-95, Harrison
We are part of The Trust Project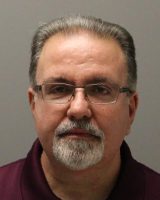 Anthony Mangano (DOB 6/7/68) of Ozone Park, was arraigned in Westchester County Court and charged with one count of Leaving the Scene of a Personal Injury Incident Resulting in Death, a class "D" Felony under the Vehicle and Traffic Law in the death of 32 year old Salvatore Brescia of Stamford, Connecticut.
On Thursday, December 29, 2016, the defendant was driving a box truck for his employer, an auto parts company on Long Island. He was traveling north on I-95 and had just passed the New Rochelle Toll Plaza when at approximately 6:50 a.m., in the Town of Harrison, the defendant struck and killed the victim who was standing in the right lane next to his tow truck. The victim was assisting a driver that had broken down on the side of the highway.
The defendant did not stop but instead continued driving. He exited I-95 north and circled back to view the scene. At this juncture, state police and an ambulance crew had responded. The defendant again passed through the New Rochelle Toll Plaza and went past the scene, going northbound heading to his supply run stop in Connecticut. At no time, did he stop to report his involvement or provide information to police.
The victim died of his injuries, which consisted of blunt impact injury to his head, neck torso and extremities. He was struck by the right side-view mirror of the truck driven by the defendant. The force of the impact broke the mirror off the defendant's vehicle.
An intensive investigation by the New York State Police consisted of collecting fragments of the plastic from the broken mirror at the scene. This in turn led them to the company in Ontario Canada that manufactured the plastic mirror and local distributors of the mirror and eventually to the defendant's employer.
State Police Investigators were then able to identify the defendant as the driver that left the scene on I-95 on the day of the incident.
EZ Pass and cellphone records were also instrumental in this investigation.
The defendant pled not guilty. Bail was set at $10,000 cash or bond. His next court date is August 1, 2017.
The defendant faces two and one-third to seven years in state prison.