Maloney Urges for Speedy Sandy Aid Passage on House Floor
We are part of The Trust Project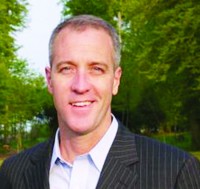 On his first full day on the job, Congressman Sean Patrick Maloney (D-Cold Spring) took to the floor of the House of Representatives to urge the speedy passage of the federal funds that are earmarked for the areas devastated by Hurricane Sandy.
Maloney had a chance to speak before a vote on HR 41, which permitted the Federal Emergency Management Agency (FEMA) to borrow an additional $9.7 billion from the government to pay out flood insurance claims in New Jersey and New York.
"I don't know all the rules of Washington but it sure seems like the rule here is to put off until tomorrow what should be done today, even when our fellow Americans are suffering," said Maloney.
FEMA reports that it has received about 140,000 insurance claims related to Sandy, which damaged or destroyed more than 72,000 homes and businesses in New Jersey, and more than 570,000 in New York.
Putnam County is eligible for FEMA funding for its local municipalities as well as individuals' claims.
The $9.7 billion is part of the Senate's $60.4 billion emergency bill for Hurricane Sandy relief, which was passed on Dec. 28, 62-32, with most Republicans voting no.
House Republicans would not bring the bill up during the previous session of Congress.
"A long time ago I learned from my mom and dad, Jim and Joan Maloney, and our parish priest Father Bill Nolan a much better rule," said Maloney. "It is called the golden rule and Americans of all parties live by it. People in New York, New Jersey and the Hudson Valley live by it."
Maloney gave his colleagues and example of how New Yorkers came together to help one another during the storm.
"Bart and Diana Tyler [owners] of Kelloggs & Lawrence Hardware Store in Katonah live by it," he said.  "They led storm victims through the darkened aisles of their hardware store for critical supplies during the hour of maximum danger and greatest need and consoled them like they were their own family. Bart and Diana did not make their neighbors wait 68 days for help. They did not say that they could do more later. They acted with speed; with character."
Maloney urged the representatives to pass the bill for $9.7 billion and to bring the bill for the additional $50.7 billion of aid as soon as possible to the floor.
The $9.7 billion aid package passed 354-67. All the no votes came from Republicans. The most notable Republican to vote no was former vice-presidential candidate Paul Ryan (R-Wisconsin).
The Senate later passed the bill and President Barack Obama signed it into law.
The second portion of the bill is expected to be voted on by Jan. 15.