Mahopac Teacher Named 'Teacher of the Month' After Student Campaign
Mahopac High School physics teacher Dennis Quackenbush, named WHUD Teacher of the Month, remembers well the reason he decided to become a teacher. Two teachers in Suffern deserve the credit, he said.
"I wanted to touch another kid's life like those teachers touched mine," Quackenbush said.
Having just finished his fourth year teaching at Mahopac, he was nominated to receive the radio station's June Teacher of the Month award as a consequence of appreciative letters sent in voluntarily by his students.
"These were four of the best written nominations we've had here in the last few years," said WHUD host Mike Bennett.
Bennett's co-host, Kaycey Morabito, she said Quackenbush is well on his way to making the last impression on his students that Quackenbush's teachers left on him years ago.
"You have definitely turned on a few switches in these kids' minds and hearts and they so appreciate all you do for them," Morabito said.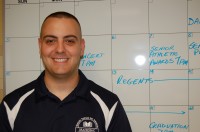 The Mahopac teacher said he was caught off-guard by the accolode.
"It was a big surprise," Quackenbush said. "Traditionally, when you are summoned to the principal's office at 7 a.m., the news isn't good. But, this time it was different."
A graduate of St. Thomas Aquinas College in Sparkill, NY, with a master's degree and a summer studying at Oxford University in England, Quackenbush was recognized by his students as "inspirational, knowledgeable, caring and helpful."
"He's the smartest person in the school," one letter said.
Another letter from a former student who is now in college said she still uses the techniques Quackenbush taught her in her high school science class.
Quackenbush clearly recalls how Mr. Farkus, a fifth-grade teacher in Suffern, NY, made classroom lessons engaging, and later, how a high-school teacher named Dan Johnson helped him cope with a family tragedy to realize what he could do and what he wanted to do.
He said he uses that inspiration in teaching physics and in coaching his science research students; one of whom, , Marian Sarcinella, won the Westlake Science Fair competition this spring.
Quackenbush teaches three classes of physics to juniors and seniors and two classes of science research. He also advises the Mahopac High School's Science Olympiad Team.
In recognition of the award, WHUD and the sponsor, Accura of Bedford Hills, will send Quackenbush a plaque and Mahopac High School a $500 check.
To listen to WHUD's interview with Quackenbush, visit the school district website, www.mahopac.k12.ny and click on the high school page. The students' letters are posted on WHUD's website.