Mahopac Softball Coach Hits Home Run for Health Care Workers
We are part of The Trust Project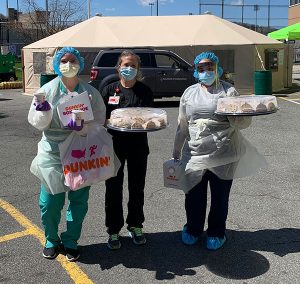 White Plains resident Cristina Giansante doesn't post much on Facebook. But when she does, she makes it count.
Eager to find a way to play a constructive role during the coronavirus public health crisis, Giansante and her friend Dylan Salaverria picked a goal: to help feed local nurses and doctors.
On Apr. 5, Giansante announced the initiative on Facebook.
"We have reached out to our nurse friends and we started placing orders for their units of boxes of coffee and wedges," explained Giansante, who is also the head coach of the varsity softball team at Mahopac High School. "A simple gesture to say thank you, although words and actions can never cover their efforts."
Giansante had also sent a text to a group of high school friends, and cousins, and within minutes she was looking at a Venmo account of nearly $1,000.
"I am so grateful to have these people in my life, that in a drop of a hat they are ready to help me, in any way they can," she noted on Facebook. "Humanity is powerful."
The day Giansante posted to Facebook, her grassroots effort succeeded in helping a unit at St. Lawrence Presbyterian. Just two days later, the campaign helped feed and provide much-needed caffeine to four hospitals: St. Vincent's, New York-Presbyterian/The Allen Hospital, Columbia Presbyterian and White Plains. Continued fundraising and hospital visits are also on the schedule this week.
"The amount of support we have received through out the community (and community afar) has been remarkable to say the least," she stated. "Yesterday I listened to my phone ding after ding as the money flowed in from all over. In uncertain, stressful, and dark times is when humanity shines and comes together."
Salaverria noted how the pair was looking for ways to contribute but at first were coming up short.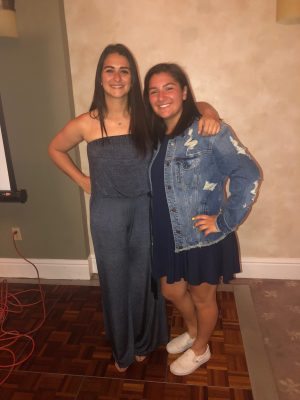 "We were talking about ways to help out and volunteer, but couldn't find many places that wanted us due to lack of medical training," said Salaverria, a fellow White Plains native who attended high school with Giansante. "Many of us were sending money via Venmo to some local nurses to buy a coffee for themselves but still felt we could do more. So we decided to get sandwiches and coffee for one friends unit of 10 nurses at Lawrence hospital on Sunday, which we then showed others our idea to help gather more donations and allow us to feed more hospitals. This is not only a good way to help out the health care workers, but also the local food businesses who are currently struggling as well."
Salaverria's mother, in fact, is a retired nurse.
"So this hits home for me," said Salaverria, who works at an audio, video and electrical company in West Harrison. "My goal was to find a way to give back and thank them because i know how hard they work first hand."
For those interested in helping feed hospital staff, Giansante is asking people to Venmo her at @CGiansante10 or PayPal at Cristina.giansante1@marist.edu.
"We are grateful for these super heroes," Giansante remarked. "Being able to even provide some sort of comfort, solace, and a smile right now helps lift each other through these times."