Mahopac Man to the Run for the 94th Assembly District
We are part of The Trust Project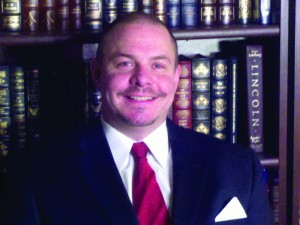 By Alex Weisler
Mahopac paramedic Wolf Lawton is the latest Republican candidate to throw his hat in the ring for the State Assembly 94th district seat.
Lawton, 35, made his official announcement at noon Feb. 7 on the steps of the Putnam County Courthouse in Carmel.
The proposed 94th district includes the towns of Patterson, Southeast, Carmel and Putnam Valley in Putnam County and the towns of Somers and Yorktown in Westchester County.
Lawton said the proposed state-wide electoral redistricting has not been fully determined but he anticipates that he will be running in the primary against State Assemblyman Steve Katz, R-Yorktown.
Lawton would also face another Republican challenger in Putnam Valley small-business owner Dario Gristina, who had previously announced his candidacy.
Lawton said he's running to give a voice to blue collar workers, who he feels are usually neglected by modern political parties.
"A person who's a multimillionaire doesn't truly represent the struggle that the rest of the blue-collar workers are going through," he said.
In his work as a paramedic, Lawton said he frequently meets people from all walks of life who, despite their differences, share a common distrust of Albany.
"There is great distrust in our government and elected officials. There seems to be no clear direction," he said. "It was a time for someone to step up and attempt to see if they could fill some of these voids."
With plans to run a "fundamental grassroots campaign," Lawton said he plans to convince the Putnam County electorate he shares their burdens.
"I want to hear what the people have to say, I want to hear what their struggles are, I want to be the voice for them in Albany."
A graduate of Mahopac High School, Lawton is now a student at SUNY Empire State College, majoring in professional studies with a concentration in emergency management.
Lawton joined the Mahopac Volunteer Fire Department at the age of 17 and is now in his 17th year of service there.
He also worked at Ground Zero in the aftermath of the Sept. 11, 2001, terrorist attacks on the World Trade Center, working at the Stuyvesant High School site to help coordinate a makeshift triage and treatment area.
Community and public service has been a major component of Lawton's life since he joined the Putnam County Sheriff's Office Explorer Program at 14. Remaining an explorer until 21, he then rose to become a cadet, sergeant and lieutenant, ending as a cadet advisor, according to the site.
Lawton's interest is politics was fostered when he and his older sister Jennifer volunteered with the "Teenage Republicans" group in Putnam County.
"Registering as a Republican in his first opportunity to vote, he has endeavored to vote in every single election opportunity," the website reads. "Serving some time on the local Republican committee, and carrying petitions for other aspiring politicians, Wolf got a taste of the footwork needed during a campaign."