Mahopac Hitting Stride in Wins over Brewster, Somers
We are part of The Trust Project
By Tony Pinciaro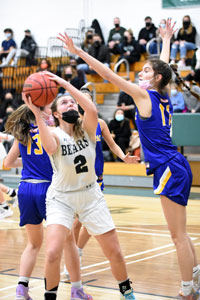 Players and coaches will tell you that nothing positive comes out of a loss. However, senior and captain Melanie DeMeo and her MAHOPAC teammates might disagree.
Following a loss to an undefeated WALTER PANAS last month, Mahopac walked away upbeat.
"The positive thing coming out of that game was that we didn't hang our heads down or give up," said the four-year varsity starter and point guard. "After getting into early team foul trouble and falling behind big, we fought our way back and made it a close game."
Since that game, Mahopac has won three of its last four, including triumphs over BREWSTER (51-39) and SOMERS (50-27), last week. Brewster (8-2) had handed Panas (9-1) its first loss of the season prior to the holiday break.
Mahopac (5-4) took control of the Brewster game in the third quarter, extending its lead to 15 points.
"The key to the Brewster win was that we came ready to play," said DeMeo, who had 13 points and ran the break to precision. "We had energy all throughout the game, we were shooting the ball well and our defense made it easy for us to hold the lead."
Mahopac held Brewster's outstanding senior, F Grace Galgano, to 12 points. Meanwhile, Julie DeBrockey led Mahopac with 15 points and Lauren Beberman added 10 points.
Along with beating Brewster and Somers, Mahopac is now 4-3 overall and 2-0 in a difficult league.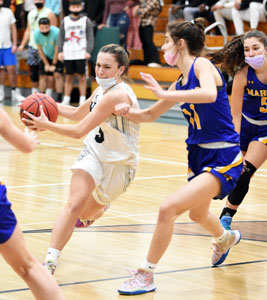 "Winning league games is always tough," DeMeo said. "There are all good teams in our league so starting off 2-0 feels really good, considering the hard work that we put in."
Mahopac has once again established itself as a top team in its league and in Class A. The Indians were the Northern Westchester-Putnam Large-School Champions last year. Even with the graduation of four seniors, including two starters, DeMeo and her fellow veterans have Mahopac playing at a high level.
"They were a huge part of our team and we knew they were going to be hard to replace but we were confident that we were still going to have a good team," DeMeo said. "As preseason progressed, I think what gave me a good feeling about this team was that we are so close-knit. We are friends on and off the court, which makes this team special."
Mahopac was even at 2-2 through four games, but DeMeo and her teammates were still acclimating themselves to each other. She said the team gelled and became more comfortable with each other.
Mahopac Coach Chuck Scozzafava credits DeMeo, who will attend the University of Massachusetts-Dartmouth in the fall and play basketball, with playing a complete game.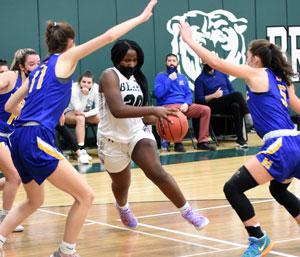 "Mel has stepped up as one of our leaders on the court, both offensively and defensively," Scozzafava said. "Mel usually gets to defend the top guard on the opposing team.
"She's been a great influence on the younger players, as well."
DeMeo, who plans on majoring in Architecture and Interior Design, is averaging 10 points, 4.5 rebounds, three assists and two steals per game.
DeMeo led Mahopac with 12 points against Somers (1-5). Kristina Rush added 10 points and Beberman finished with nine points.
BREWSTER closed out 2021 by handing Panas its first loss of the season, but Mahopac dashed the Bears' momentum to open 2022.
Mahopac defeated Brewster, 51-39, but the Bears rebounded to handle Horace Greeley (58-30) and Dobbs Ferry (61-34).
"It was a very disappointing game," Brewster Coach Mike Castaldo said of the Mahopac game. "We didn't come out with the same intensity and energy as Mahopac did. Mahopac was the team that played like they had something to prove and they showed they are the best team in the league right now. They shot the ball very well and played great team defense."
Galgano posted a triple-double – 23 points, 13 rebounds and 10 blocked shots, against Greeley, and added seven steals. Adrianna Calicchia turned in a season-best 18 points.
"It was a great defensive game overall," Castaldo said. "The guards got a lot of steals and deflections in the press and Grace was a force down low. Adrianna, a senior, played the best game of her career and I could not have been more proud of her. Adrianna executed the game plan to perfection and really stepped up for us. She has been playing great and has been a difference-maker for us."
Against Dobbs, Galgano had another strong game with 24 points, 15 rebounds and eight rejections. Calicchia finished with 14 points and Margo Cunningham and Madison Dakin each added 10 points.
Brewster (8-2 overall) will play John Jay-Cross River, Tuesday, and Yorktown, Friday.
PANAS went into the holiday break experiencing its first loss of the season – to Brewster.
The Panthers used that time to work on a few things and returned for its 2022 opener with a solid 53-28 win over Hen Hud.
Freshman Cadence Nicholas rang up a game-high 18 points. Sofia Tavares and Katie Hofmann added 9 points apiece and Kelsey Cregan had eight points and eight rebounds for the Panthers, who had their Slam Dunk Challenge game against Putnam Valley canceled Sunday (icy conditions).
"The game against Brewster showed us that even although we have won tough games, it does not mean we are unbeatable," Cregan said. "Brewster is a good team that came to compete. The loss definitely motivated us to work hard in practice over break and come back from break with a win. It was very important for us to win because we didn't let one loss get to us and lead to multiple losses."
Panas is now 9-1 overall and 2-0 in league play.
Following its lone loss this season, OSSINING defeated Fox Lane, 65-51, to run its winning streak to three in-a-row. Sophomore Joey Jowers had a strong game with a team-leading 18 points. She also registered seven steals. Senior Karen Perriott finished with 11 points and a team-best 10 rebounds and Angelica Rios also had 11 points and she grabbed eight rebounds.
Michelle Mercado had eight rebounds and seven assists for the Pride (6-1).
LAKELAND (8-0) and YORKTOWN (2-3) did not play last week, but Lakeland could soon be 10-0 before they face PEEKSKILL (4-2) and Panas on the 18th and 20th of Jan. in a pair of pivotal league games. The Red Devils are surging behind talented freshman F Bethani Overby.
PUTNAM VALLEY (4-4) junior G Eva DeChent is only a couple of buckets away from 1,000 career points, which should be attainable today at HALDANE (3-5). The Rhode Island-bound DeChent is also closing in on Kristi Dini's school record for career points. The Tigers, who are still acclimating to new Coach Don Hamlin, have lost three of their last four, but their opponents in those three losses are a combined 19-7, and PV – the 2020 Class B sectional champ and 2021 small school N.West-Putnam regional winner – is just starting to get healthy, so expect a major run in the coming days.
– Ray Gallagher contributed to this story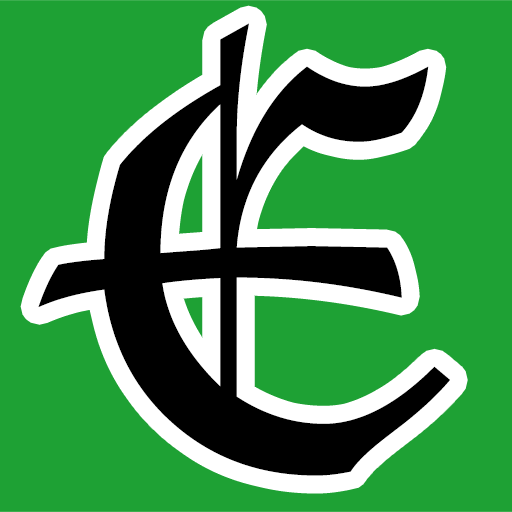 Examiner Media – Keeping you informed with professionally-reported local news, features, and sports coverage.