LV2BFIT Fitness Boutique Combines Women's Two Passions
We are part of The Trust Project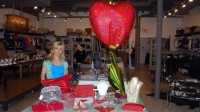 By Andrew Vitelli
While Bedford resident Patty Palmieri comes from a background in retail, having worked at Lord & Taylor and Bergdorf Goodman, it was her side job teaching exercise classes at The GYM in Armonk that led to her current venture in fashion.
While many of her students were showing up in whatever old gym shirt they could find buried in their drawers, Palmieri was always dressed like she could head straight from the gym to a nice night out.
"People would always say, 'Oh my god, I love the way Patty looks," Palmieri said. "'Where did you get that? I want to wear that.' So that's how it all began."
What Palmieri learned was that a woman's desire to look fashionable isn't put on hold while she's doing Pilates or running on the treadmill.
"There's mirrors all over the place," Palmieri explained. "So what are you looking at? At yourself. So if you look good, you'll feel good and you'll work out harder."
Last October, she opened LV2BFIT in Rye, a fashion boutique specializing in stylish clothing women can wear while working out. You won't find traditional workout apparel like Nike and Adidas there. The lines Palmieri carries, like Splits 59, Beyond Yoga and Equilibrium, are only workout clothes while the person wearing them is at the gym.
Palmieri believes she's found an under-served niche in Westchester.
"There's no place that really focuses on fashion fitness," she said. "So there's not really anyplace around where you can get my clothes."
Not everything carried in LV2BFIT is meant to be worn while working out. The store also carries several more traditional lines of clothing to be worn to and from the gym as well as a range of options in jewelry.
"It's affordable, great-looking pieces that you don't have to break the bank to buy," Palmieri said. "You can get a pair of earrings for $40 or you can get a pair of earrings for $500."
Palmieri, who grew up in Scarsdale, started out in a small location in Armonk but soon outgrew it and found her current location at the Rye Ridge Plaza.
"Everybody loves it," she said. "If 10 people walk in, eight people buy, so I know that I have the right merchandise."
LV2BFIT is located at 13 Rye Ridge Plaza. For more information visit www.lv2bfit.com.