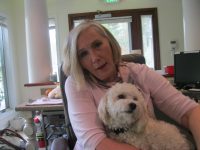 Mahopac resident Christine Sinclair said she has a specific reason for naming her Brewster-based dog day care and boarding business Lucky Dogs NY.
The business had operated out of Somers for four years when it was known as A Bark Above. Following the sale of the building where Sinclair was a tenant, she was forced to move. At the time after she recovered from heart surgery and when she moved to the current Putnam location in 2016, she changed the name of the business.
"We felt ourselves to be very lucky dogs, so we changed our name," Sinclair said last week.
Sinclair's daughter, Avery, "helps me run this place," Sinclair said. "She's the backbone." Mother and daughter are co-owners of the business.
Dog day care is provided at the Route 22 location and boarding is provided at Sinclair's home.
"We don't have a situation where we have somebody that just comes in and drops their dog off.," she said  "We have an elaborate process of taking a dog and making it part of a pack. Once they're part of that and they feel comfortable here, then when I take them home for boarding there's a lot less stress."
Sinclair said she has had as many as 21 dogs at her center on one day.
Sinclair said she entered her current line of work because of her love of dogs and her daughter, Thea, who had a dog she needed to bring back with her to New York City.
"I helped her find a dog day care," Sinclair said. "I was surprised at what a lot of people considered to be day care. So at the time I was complaining about it. She said if there's a problem, you should do something about it and I did."
Sinclair said her dog day care is different than others. "Instead of creating a human environment for the dog to play we have created an environment that's created by the dogs and we just keep them in a safe place," she said. "The dogs are allowed to play. If I go back there and sit with them then they stand around me all day. That's not day care. That's not them playing."
Sinclair said at the end of the day she provides the dog owners with report cards on how their pets made out during the day, including which dogs they made friends with. "They make really close attachments with other dogs," Sinclair said.
Before taking a dog for a full day, it will be brought to the dog care center for a few hours to make them feel comfortable and make them understand they are not a vet's or groomer's office, Sinclair said.
Sinclair said she brings dogs home with her for boarding and she has had dogs for as many as six weeks. "That's the whole point, to make them as comfortable as possible," she said.
Lucky Dogs NY is located at 192 Route 22, Suite 100 (look for the green door), in Brewster. For more information call 914-617-8900 or visit luckydogsny.com.