Lucky 13! Lakeland Keeps on Streaking, Wins Class B Crown
We are part of The Trust Project
By Tony Pinciaro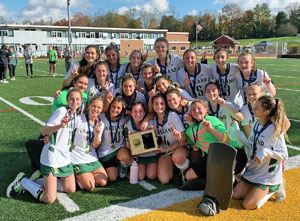 LAKELAND had two goals disallowed and faced going into halftime of the Section 1 Class B Field Hockey title game down a score. That did not sit well with Sacred Heat-bound senior Jaden Ray and her teammates. So, 64 seconds before halftime, Ray made a momentum-changing play.
Following Ray's insert pass to Gabby Santini, Ray pounced on the rebound of Santini's shot and evened the score for her 20th goal of the season. Lakeland carried the momentum into halftime and would never relinquish it.
Santini scored on Lakeland's first penalty corner of the second half and the defense made it hold as the top-seeded and host Hornets overcame second-seeded John Jay-Cross River, 2-1.
It was Lakeland's 13th consecutive Section 1 Class B title and 21st overall championship. New York State Hall of Fame Coach Sharon Sarsen also registered her state-leading 689th win.
Lakeland, now 17-0-2, will play Section 9 champion, Kingston, in a regional final, Saturday (11/6), 3 p.m., at Rondout Valley High School (Section 9). The winner advances to the state Final 4 at Centereach (L.I.) High School where it will play the Section 2/Section 3 winner, in a semifinal, Saturday, 11/13, 2 p.m. The semifinal winners meet for the title Sunday, 11/14, 3 p.m.
"I cheered before I even scored the goal," said the Sacred Heart-bound Ray, with a laugh. "I've been able to get those kinds of rebounds in practice and in the Greeley game. It was right there on my stick. I'm thinking, 'This is perfect.'
"Getting us on the scoreboard brought us to another level and made us hungrier for the ball. That changed the game."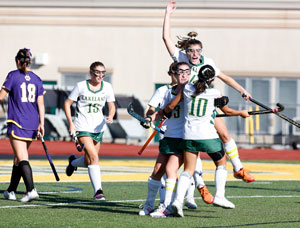 That was quite a different feeling from the two disallowed Lakeland goals.
"The disallowed goals were really annoying, especially the one where they said the shot was high," Ray explained.
"I tipped the ball up in the air on the goal. Just knowing that we did score, even though it didn't count, we were so pumped up to score and set ourselves up."
Lakeland received its first corner four minutes into the second half and it was perfectly-executed. Ray sent the pass to the top of the circle, to All-NYS middie Mia Smith, the section's premier player, who controlled it and dished to her left to an open Santini. As the John Jay defender challenged Santini, she gave a quick dodge and deposited a ground-hugging shot into the cage.
"Everything was perfect on that corner," Ray said. "Everyone is so proud of Gabby. She kept it simple and pushed it in."
Before Ray tied the score at 1-1, Lakeland received a scare. A few minutes earlier, John Jay appeared to scoreits second goal. However, the official blew the whistle for a Lakeland foul, in the circle, before the goal. As a result, John Jay was given a penalty corner that Lakeland thwarted when sensational G Celeste Pagliaroli made one of eight saves on the day.
"I think the feeling would have been different if it was 2-0 and it would have been more difficult, because we might have started overthinking and started pressing," Ray said.
Lakeland and John Jay played to a 1-1 draw in the regular season. Ray and her teammates went to work on making adjustments off of that game knowing a sectional meeting was highly possible.
"We felt we connected pretty well in that game, but finishing was an issue," Ray said. "We practiced finishing by working on a bunch of drills for the forwards and they picked it up today."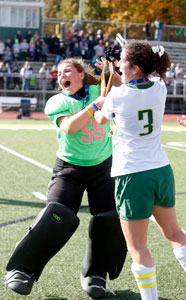 Lakeland returns to state play for the 13th consecutive year and 15th since 2003 when current Lakeland Junior Varsity field hockey Coach Danielle Fiore and Copper Beech Middle School Modified field hockey coach Andi Coiro led the Hornets to the state Class A title. Lakeland also won the 2006 Class A state title, led by Melissa Gonzalez, Kara Connolly, Amy Voelkel and Rebecca DiSisto. This quartet were freshmen on the 2003 state-title team.
Having the state field hockey championship back after the pandemic eliminated it in 2020 has Ray and her teammates excited. Ray and Smith were members of the 2019 state-title team.
"I remember my sophomore year we had amazing seniors and strong juniors and watching them be so good inspired everyone," Ray said. "Winning this sectional title is an amazing thing and we worked really really hard for it."
Lakeland drew a first-round bye before beating No. 9 Hen Hud, 7-0, in a quarterfinal and the No. 5 Horace Greeley, 2-0, in a semifinal.
CARMEL continued its rise toward Class A supremacy under coach Aislinn Breslin.
The Rams won the league title, registered 10 wins during the regular season and were seeded fifth in the Section 1 Class A Field Hockey Championships.
Carmel defeated No. 12 Ursuline (4-0) in a first-round game and then dispatched No. 4 R.C. Ketcham, 5-4, in overtime, in a quarterfinal. Carmel avenged a 5-0 regular-season loss to Ketcham. Top-seeded Scarsdale defeated the Rams, 2-0, in a semifinal.
Carmel finished with a 12-6 record, capping a memorable six years for the five seniors — Kasey Lewis, Claire Bumgarner, Gracie Sonnergren, Karoline Costa and Nikki McGough.
"Our whole team is very proud and pleased with our success this year, especially our seniors, having it being our last year we play field hockey together," McGough said. "It started with winning our league and then the bar kept getting raised each time we won our sectional game."
McGough and her teammates were hoping to get another chance against Ketcham. They wanted to prove the regular-season game was an aberration and McGough added the punctuation mark with the decisive goal in the second seven-vs.-seven overtime.
"We went into the game as the underdogs and came out on top," McGough said. "This mentality continued into our semifinal against Scarsdale, as we were not going down without a fight."
McGough and her fellow seniors graduate with many memories and fun times during their six years playing, starting on modified in seventh grade. They will miss the camaraderie, but know that Breslin will continue making Carmel a perennial power.
"I believe the program's future will continue to be successful and grow," McGough said. "Coach Breslin has been doing everything she can to get girls involved. She will be running clinics at Carmel Sports Club this winter. She is truly a great coach and a person who wants the best for her players."
In its first year in Class B, a young HORACE GREELEY team went 7-6-3 during the regular season and earned a fifth seed in the Section 1 Class B Field Hockey Championships.
Greeley, the 2019 Section 1 Class A champion and state runner-up, blanked No. 12 Brewster, 6-0, in the first round as Olivia Pascione had a hat trick and Cat Salamida added two goals.
The Quakers traveled to No. 4 Pelham for a quarterfinal and emerged with a 1-0 overtime victory on Dani Halperin's goal.
Greeley's season came to a close in a 2-0 loss to eventual Section 1 Class B champion Lakeland. The Quakers went 9-7-3 for the year.
"We had a very young team this year," Greeley coach Suhkwinder Sandhu said. "This is the first time most of our players have gotten playing time on varsity. But, this was a great season for rebuilding and we did a lot better than we thought we would have because of the speed we improved at. We have created a solid base for the next few years."
HEN HUD used a late-season surge to finish with one of the best years in program history.
The Sailors went 3-0-2 in their final five games to finish the regular season with a 9-5-2 record and the No. 9 seed in the Section 1 Class B Field Hockey Championships.
Hen Hud opened with a 2-1 victory over No. 8 Nanuet before falling to eventual Class B champion, Lakeland, in a quarterfinal. As a result, Hen Hud completed the 2021 season with a 10-6-2 record.
"This season has been great," said senior and captain Taeghan Dapson, who assisted on both goals against Nanuet. "The effort from everyone on the field and the leadership positions that our seniors have taken this year has really allowed for a lot more success than past seasons.
"The team we had this season, a majority of our team started playing in the past two years. Something that has been prominent in all of our new players is the pure drive to succeed and do well. Attitudes like this have raised our game to new heights."
Dapson and her classmates will graduate with the program having established a firm foundation under coach Melissa Locatelli.
"It's hard to say goodbye, but we are graduating with the best season we've had in a while and a solid group of young girls to continue to play."
Hen Hud scored in the opening minute against Nanuet, then played a solid game, defensively, especially in the circle.
PLEASANTVILLE entered the 2021 season facing a difficult schedule as the Panthers played some of the top teams in Class A and Class B.
Coach Kristen Coffey and her girls responded with a berth in the Section 1 Class C Field Hockey Championships.
The Panthers, seeded 4th, defeated No. 5 Irvington in a thrilling first-round game that was even at 1-1 through regulation and the two 10-minute seven-v-seven overtimes. As a result, the game went to a shoot-out with Pleasantville scoring twice, to Irvington's once.
Maeve McCourtney scored for Pleasantville in the fourth quarter to send the game to overtime.
Pleasantville ran into top-seeded and Section 1 Class C champion North Salem in a semifinal and the Tigers prevailed. McCourtney scored, assisted by Natalie O'Malley, and goalie Izzy Baxter made 10 saves.
"We had an extremely difficult schedule this season and exceeded all expectations," veteran Pleasantville Coach Kristen Coffey said. "Our team worked together from start to finish and while it is always difficult for the season to come to an end, the memories made through practices, games and team bonding activities will last a lifetime."
The 2022 season will be promising for Coffey.
"We return 13 players next season so there is a strong base to build off of for next year," Coffey said.
PUTNAM VALLEY, under the guidance of second-year coach Tracy Parchen, was on the rise this year. The Tigers finished the regular season with a 6-6-4 record, including a 7-0 win over a Class A Ossining team that had nine wins.
Putnam Valley was seeded ninth in the Section 1 Class C Championships and won its first-round game against No. 8 Rye Neck, 2-1, in double overtime.
Senior and captain Julia Cunningham had the decisive goal, assisted by Ava Harman. Gabby Alvarez also scored, with Ava Buerkle assisting.
Putnam Valley lost to eventual Section 1 Class C champ and top seed North Salem, 3-1, in a quarterfinal. Julia Carlin had the goal.
As a result of going 1-1 in sectionals, Putnam Valley finished with a very respectable 7-7-4 record.
The future appears promising for YORKTOWN following a 5-8-4 season and sectional berth.
Even though the 11th-seeded Cornhuskers lost to No. 6 Pearl River in the first round, Yorktown took another step in the progression process under second-year Coach Courtney Hyndman.
"We are progressing in the program here," Hyndman said. "Coach Esteves, Coach McAulay and myself are trying to build something special. We had a talented group of girls and had a better record than the year prior. The girls stepped up big time this year and competed well against some Section 1 powerhouses, such as Bronxville, who we tied, 1-1.
"We are losing two seniors, this year, who will be missed dearly in Abbie Ellison and Maya Servedio. Although losing these two girls leaves some holes on the field, we are excited to be returning 18 players. You have to remember there is no youth program or modified programs in Yorktown, so the first time these girls pick up a stick is typically freshman year. We are looking to build in the off-season and have these girls continue to grow together. It is a tight-knit group that will have 10 seniors to lead and set the tone for the underclassmen. We are excited to see what's to come for this team and program for the fall of 2022."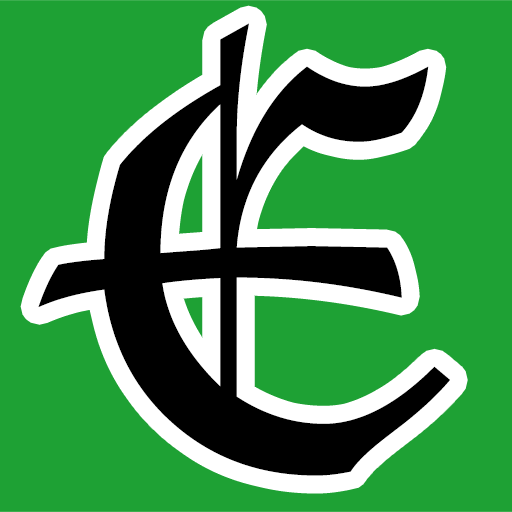 Examiner Media – Keeping you informed with professionally-reported local news, features, and sports coverage.