LSW Chauffeured Transportation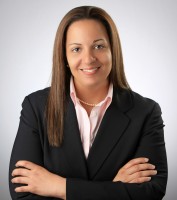 Four years ago, Greenburgh native Melissa Thornton was on a different career path. Having spent 12 years in corporate America as an employee of several Fortune 500 companies, including Phillip Morris, Pfizer Pharmaceutical, Barclays Capital and more, this savvy businesswoman hadn't considered joining the family business, DLC Limousine Services, Inc., parent company to DLC Ground Transportation and LSW Chauffeured Transportation.
In 2008, after a heart-to-heart with her mother, Chris Thornton, the co-founder of the company, the younger woman made a life-changing decision to join as chief operating officer of this well-respected Westchester corporation. Melissa became the chief executive officer in June.
"She's really someone I look up to, because she has taught me what it's like to be a woman in business," said Thornton, referring to the lady who helped her late husband, Douglas Thornton, establish the company in 1978.
Back then, Douglas Thornton recognized there was a need for a chauffeur-driven ground transportation service in the Westchester County area and beyond, having gained much of his knowledge as a New York City cab driver and owner of a bus charter service in White Plains.
Today, his daughter acts as chief executive officer of parent company DLC Limousine Services, Inc. while growing the upscale boutique limousine service offered by LSW Chauffeured Transportation, which works with executive-level companies throughout the tri-state area.
The company employs 65 people and has a fleet of 30 vehicles, including a number of Lincoln L series sedans, Chevy Suburbans and several executive vans and mini coaches.
"We have a very rigorous vehicle maintenance process," said Melissa Thornton. No vehicle is less than two years old or has clocked more than 150,000 miles. Over the last few years, the company has also taken pro-active steps to reduce its impact on the environment by implementing the philosophy: reduce, reuse and refuel.
Long before she joined the business world, Thornton, who holds a bachelor's degree in management information systems from Pace University, got a taste for the business when, as a college student, she drove some of the company vehicles and also helped out in the office.
Her years in corporate America, however, were the most beneficial to her role as an executive. "The experience, skills and discipline I learned during those years prepared me to run this company as a corporation, and it has also taught me how to think," said Thornton, who is not afraid to roll up her sleeves on a daily basis, doing everything from working on client retention strategies to handling sales, financial planning and more.
Having come from the fast-paced corporate world herself, Thornton is keenly aware of what it takes to make business travel smooth and pleasant, and customers happy. From this knowledge came her vision for LSW Chauffeured Transportation.
The key is often on the ground making connections between airports and hotels as well as business meetings. In order to offer a stream-lined service to clients, Thornton has developed relationships with over 550 affiliates around the world.
"In many ways, it's like one-stop shopping," noted Thornton, adding that arrangements can be made in one single phone call and the cost can be covered in one bill.
"When a client calls we take their entire itinerary so a car not only takes them to the airport locally, but when they land another car is waiting to take them to their hotel, business meetings that day or the next day and back to the airport again," Thornton explains.
"We also keep a database of our clients' preferred services," Thornton says. "If a customer has dogs that bark when a car pulls up, we know to park around back or wait at the corner. If a customer prefers the Wall Street Journal to The New York Times, we have that newspaper waiting for them. Our services are very customized."
The business partnerships Thornton makes are done through a stringent vetting process to ensure the level of service customers receive, say abroad, is still the same personalized service they will get closer to home.
Just recently, LSW was awarded the exclusive contract for providing the Rye Brook-based Doral Arrowwood Hotel Conference Center with chauffeured transportation services.  "We have a desk in their lobby," Thornton said.
Pfizer has a training facility in Westchester and often needs to run people from Westchester County Airport to the conference center and back. LSW goes over the manifest to determine who is coming in and when and can send one van instead of several cars to pick up passengers arriving at the airport at the same time.
"This becomes a green solution and is much easier on the corporate budget at the same time," Thornton notes.
Thornton, who was recently awarded certification as a minority woman-owned business, treats prospective employees the same way. The driving records of all chauffeurs are scrutinized and each prospective driver must go through an extensive training process.
"These days the industry is so saturated that we have to stand out," said Thornton, referring to the detailed classroom and on-the-job training that each worker receives.
If the parent company's recent nomination as one of Inc.com's "5000 List of Fastest-Growing Companies" in 2012 is any indication, Thornton's enterprise is well on its way to becoming a very successful endeavor indeed.
"I know I have big shoes to fill, but I am so honored to have this opportunity to grow the company and to help maintain the impeccable reputation we have," Thornton said. "I'm intent on going where the industry takes me, because where we are today is not where the industry will be tomorrow."
To find out more, visit lswlimo.com or call 1-877-878-5466 or 914-592-8534.