Lowey Calls on House to Pass Highway Bill
We are part of The Trust Project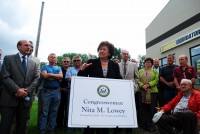 Standing along Elmsford's busy Saw Mill River Road with two-dozen local officials and construction labor leaders, Rep. Nita Lowey called on House Republicans to put partisanship aside and reauthorize federal transportation funding before it expires on June 30.
"Continuing to stall just threatens the well-being of the economy and delays construction projects throughout the country," Lowey (D-Harrison) said. "If we don't pass this bill, it's very hard for businesses to make plans, planning ahead, hiring people, and that is of great concern to all those who are represented here today."
Since the last multi-year federal bill funding the country's transportation system expired in 2009, Congress has passed nine temporary extensions but has yet to agree on a long-term solution. Lowey is pushing the Republican-controlled House to sign onto a two-year plan that passed 74-22 with bi-partisan support in the Senate.
"House Republicans are dragging their feet," Lowey declared. "We should be working together. We don't have a Republican road or a Democratic road. We have to get people to work."
The Senate bill would fund the program, which provides federal aid for transportation projects, at its current level, adjusted for inflation, which comes out to around $39 billion this year and $40 billion for 2013. Among the projects funded, Lowey said, would be an access ramp from I-287/87 to 9A in Elmsford.
"We all believe that the 9A project is imperative," Greenburgh Town Supervisor Paul Feiner explained. "It will reduce traffic congestion. It will improve the quality of life for businesses and for motorists."
Since passing in the Senate on March 14, the legislation has stalled in the House due to Republican objections.