Lowey Backs Obama's Reversal on Gay Marriage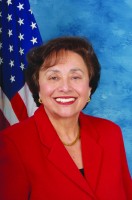 After President Obama announced his support for gay marriage Wednesday, Rep. Nita Lowey issued a statement supporting his new position.
"I have been blessed to have a long and happy marriage," Lowey (D-Harrison) said in a statement Wednesday evening after posting the same remarks on Facebook and Twitter. "I strongly believe all Americans deserve that same opportunity."
It's not a new position for Lowey – she voiced her support for New York's law allowing gay marriage last year when Governor Andrew Cuomo was pushing it through the legislature. For Obama, it marks a reversal, as the president had previously supported civil unions but stopped short of backing marriage for same-sex couples.