Obituary Reports the death of an individual, providing an account of the person's life including their achievements, any controversies in which they were involved, and reminiscences by people who knew them.
We are part of The Trust Project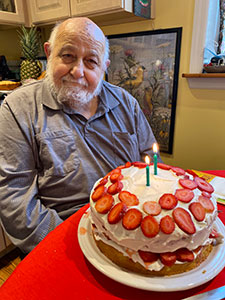 Louis H. Gullotta of Pleasantville, son of Robert and Anna (Fusaro) Gullotta, passed away peacefully at home on June 17, surrounded by his family. He was 89.
Louis was a graduate of Pleasantville High School, Class of 1954. He served two years in the U.S. Army stationed in Germany along with his high school buddies. For over 50 years, Louis worked locally as a bricklayer and concrete finisher. Louis was a loyal member of BAC Local 27 in Tarrytown where he served officially as a shop steward and officer during his time as a member.
Louis married his high school sweetheart, Margaret Sime, in 1960, where they began their life in Pleasantville in the home that they hand-built together and raised their three children.
Louis is survived by his loving wife, Margaret; his children, JoAnne Gullotta, Margo Mueller (George) and Richard Gullotta (Heni); and his six grandchildren, Zachary, Shane, Eric, Lisa, Carl and Michelle. He is also survived by his sister, Barbara Tocci, brother Robert Gullotta and his five nieces and nephews.
Besides his family, Louis' biggest joy was his upstate property in Maryland, N.Y. He spent many years hunting, cutting grass, building bridges over his beloved creek and making memories with his family and friends.
Services will be private, but if you wish, donations can be made to the Pleasantville Presbyterian Appalachia Service Project mission fund where each of his children and grandchildren volunteered every summer for 10 years. Donations can be made to the Pleasantville Presbyterian Church, 400 Bedford Rd., Pleasantville, N.Y. 10570 or at https://www.pvillepresby.org/donate.