Lord, Asquith Coast in Pleasantville Village Trustee Election
We are part of The Trust Project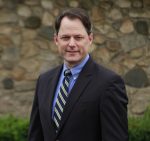 In the first contested election in Pleasantville in five years, voters elected newcomer Nicole Asquith and incumbent Trustee Steven Lord to fill the two open seats on the Village Board of Trustees Tuesday night.
Surrounded by Mayor Peter Scherer, Trustee Joseph Stargiotti and Village Administrator Patricia Dwyer, Lord and Asquith arrived at Village Hall near 9 p.m. when voting closed. They were elated once the results were announced, each elected to three-year terms.
Lord was the top vote-getter with 429 votes, while Asquith followed closely behind with 419 votes.
Asquith, who quickly contacted her family upon hearing the results, said she has enjoyed going door-to-door meeting Pleasantville residents.
"It's been quite a learning experience," she said.
What started off as a four-person race quickly dwindled as Lenny Balducci, Jr. and former trustee Jerry Lynch each withdrew their candidacy. While Balducci announced that he would not be running days after submitting his petition last month, Lynch withdrew less than two weeks before the election.
"At this time, my family and professional commitments are my priority and may keep me from fulfilling the requirements of a Village Board member with the time and focus this important role deserves," Lynch said in a Mar. 9 statement released to The Examiner.
Despite stepping aside, it was too late to remove Lynch's name from the ballot. He received 97 votes.
Despite talk in the final days before the vote of a possible eleventh-hour write-in campaign, none materialized. Nine write-in votes were reported.
Scherer and Stargiotti commended Lord and Asquith on their victory, while Dwyer thanked Lord for stepping up once again and Asquith for involving herself within the village.
"It's a great journey," Dwyer said. "We're going to have a good year."
The new terms begin Apr. 1.