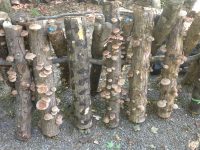 The cultivation of shiitake mushrooms offers farmers and woodlot owners a good opportunity to utilize their forested lands while turning a profit. Startup costs are low, and previous Cornell University research indicates that profitability can be achieved in the second or third year of dedicated production. As with any farming venture, viability is achieved with good business planning and attention to strategies which minimize costs and optimize efficiency.
Cornell Cooperative Extension (CCE) of Putnam County is offering a training on Log-Grown Shiitake on Friday January 26 at Clearpool Model Forest, 33 Clearpool Road, off Route 301, in Carmel. A list of additional dates and locations where the program is available can be found at https://www.easymapmaker.com/map/2018LogShiitakeWorkshops.
The workshops are held from 9 a.m. to 4 p.m. with a catered lunch and handouts included in the $30 per person registration fee.
A live webinar training will also be offered on Friday, March 2nd online with a registration fee of $20 per person and can be accessed from anywhere with a highspeed connection. (Note: please contact stg53@cornell.edu for information if there is concern regarding lack of funding.)
 Anyone who is a resident of New York State or who farms in New York and is growing commercially, starting a new enterprise, or considering commercial production is welcome to attend. The workshop content will cover aspects of production important to selling mushrooms in New York, including safety, sanitation, marketing, and regulations. Learn more about cultivation at: http://cornellmushrooms.org/factsheets
Those who attend one of the workshops or the online livestream are eligible to participate in an advanced training group and receive one-on-one support for the 2018 growing season. Details of this opportunity will be provided at the workshop.
To Register: visit www.cornellmushrooms.org/viability. For additional information contact Jen Lerner at CCE Putnam County at 845-278-6738 or email jjs95@cornell.edu. The Agroforestry Extension Specialist at Cornell University Small Farms Program can be reached at 607-342-2825 or by email at sfg53@cornell.edu.