Local Youth Engage Legislators at Greenburgh Town Hall Style Meeting
We are part of The Trust Project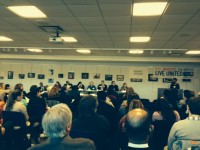 The Westchester Children's Association (WCA) with the Child Care Council of Westchester hosted a meeting Friday morning at the Greenburgh Public Library that invited local school children to ask questions of their state and county government representatives.
Opening the meeting, with an audience that packed the house, the WCA presented new statistics in a report titled: 2014, Children by the Numbers.
Claiming that data drives advocacy, WCA representatives used numbers to show legislators where they might be able to make a difference in enhancing the lives of youth in the county.
One staggering statistic said that less than half of Westchester County students are prepared for college when they leave high school.
Of the 225,231 children under the age of 18 living in the county, 68 percent are in households raised by a married couple with a median income of $140K; 6 percent are raised by a single father earning a median income of $60K; and 26 percent are raised by single mothers earning a median income of $37K, the report said.
The federal poverty level for a family of four is at or below $23,550. The estimated income needed to live in Westchester is $63,200.
The statistics further indicate that 76 percent of poor children live in single parent families and that single parent families make up 30 percent of all Westchester families with children under the age of 18.
Childhood poverty was linked to many undesirable outcomes including reduced academic attainment, higher rates of non-marital childbearing, and a greater likelihood of health problems.
Students asking questions ranged in age from 8 to 21and represented Ossining, White Plains, New Rochelle, Mount Vernon and Elmsford. They wanted to know what could be done about bullying, standardized testing, increasing employment programs for youth, improving the health quality of cafeteria foods, gun control, and how students could become more engaged in the political process.
County Legislator Michael Smith (R-Greenburgh) was the first to respond, saying advocacy helps government officials to know what is important to their constituents. "You need to know that those officials you elect will help you," he said.
Chairman of the County Board of Legislators Michael Kaplowitz (D-Somers) explained that legislators need to look at the big picture. "In this economy we need to be vetting programs," Kaplowitz explained.
Regarding the Common Core Curriculum and standardized testing, Assemblywoman Sandra Galef (D-Ossining) said she was supportive of Common Core because it strives to provide equity. Noting that students in the more wealthy districts would continue to do well no matter what, Galef said: "We have to be willing to do more sharing across municipalities."
Assemblywoman Amy Paulin (D-Scarsdale) agreed with Galef that the standards of Common Core are excellent, but the testing is onerous and poorly designed. Paulin referred to the "ridiculousness" of the existing tests. "The tests are not a reflection of the Common Core goals and the New York State Regents has not been responsive to criticism," she said.
County Legislator Ben Boykin (D-White Plains) addressed nutrition programs in schools, referring to Michelle Obama's five years of advocacy for nutritional labeling and access to healthy food in schools.
Legislator Catherine Borgia (D-Ossining) quoted recent studies that showed students who had not eaten breakfast prior to taking a test had performed poorly, yet their ratings improved dramatically when they had the meal. This is what initiated the breakfast programs in schools, she said.
Borgia further noted that to encourage companies like Whole Foods to become involved with school nutrition programs, residents had to advocate and let the company know they were interested in purchasing their products. "This will encourage them to come into your neighborhood," Borgia said.
Senator Andrea Stewart-Cousins (D-Yonkers) said New York State tried to be a leader in gun control  by passing the SAFE Act. "We don't want to take the guns out of people's hands," Cousins said. "We want to ensure their safe use. There is much more to be done."
Before the meeting ended, attendees asked the county legislators to take another look at the child care contribution made by low-income parents.
Child care costs can be as much as $200 to $350 per week per child one attendee said. "Paying 27 percent of that amount can be too much for some families."
The importance of quality daycare for social and emotional growth between birth and age 3 and for cognitive development between age 3 and 6 were also stressed.