Local War Veterans Ask For Community's Help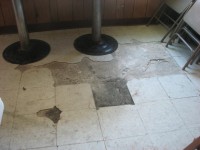 When Hurricane Irene blew through Putnam County last August it hit the American Legion Argonne Post 71 in Southeast hard.
The torrential rain flooded out the wetlands next to the post, leading to a foot-plus of water collecting in the building's bottom floor after the sump pump was knocked out.
Now, more than a  year later, the veterans at the post are still trying to get needed repairs completed in the building, but have run out of funding to do so.
After having done some of the repairs and clean-up of the post themselves, the members paid $1,000 to have the furnace rebuilt and another $400 to replace a refrigerator that also was destroyed in the flood.
What remains is the replacement of the linoleum floor that has large chunks missing; a costly fix for which funds currently are not available.
"One company wanted $10,000 to replace the floor. Another guy said he would do it for $4,500; but we don't have $4,500," said Post 71 member Harold Willis, a U.S. Army veteran who was deployed to Korea for nine months during the war. "Our only problem is getting the money to fix the floor. We have a couple of thousand left over, but that is half of what we are going to need."
And what the membership does have on-hand is money that would go toward paying necessities to keep the building operational, like insurance and utilities.
Willis and his fellow member Ronald Lipschitz, who is a U.S. Army veteran who served from 1967 to 1970 and was deployed to fight in the Vietnam War for one year, said they have some sheet rock on-hand, but they need someone from the community to help them install it.
Willis said the former mayor of Brewster, John Caesar, many years ago bought the property and moved the old Dykeman's train station from nearby location to a foundation where the current post now stands. Instead of moving in, he sold the property to the American Legion Argonne Post 71 and the commander at that time tore down the old train station and put up the metal building that still is there today.
"You can see the old timbers," Willis said of some remnants of the historic train station that remain in the basement of the building today.
Willis and Lipschitz, on behalf of the membership, said they would be extremely grateful to the community for any help provided to get the post back in tip-top shape.