Local Talent to Compete at Westchester Teen Idol
We are part of The Trust Project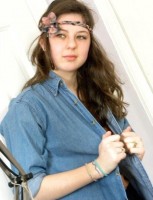 Both White Plains High School senior Erynn McLeod and Harrison High School sophomore Rachel Stagg write their own music, sing their favorite tracks, and envision attending a performing arts school in the future. This week, they will test their skills against some of the best young singers in Westchester County.
On Saturday, Nov. 24, Pleasantville Music Theatre Inc. Productions presents its seventh annual Westchester Teen Idol. The competition aims to find the best singer between the ages of 13 and 19.
"The kids are amazing," said Ray Arrucci, co-founder of Teen Idol. "I'm always amazed because the kids, back in my time, were talented, but not like these guys. These kids really know their stuff. They always impress me. So, for me, it's great to see them want to do this."
With the ever-growing popularity of performance shows like "American Idol," "The Voice" and "Glee," many adolescent artists have dreams of performing their favorite tunes in front of cheering audiences.
Erynn "grew up on tour" as she followed her father, an actor, as he performed in theatrical productions. Now 17, Erynn said that she does not remember a time when she was not singing.
"Everyone has their own knack, their own thing that they feel comfortable doing, something that they really love," she said. "I always enjoy singing. It's an outlet of expression. I also do sports, but my passion for sports isn't as strong as my passion for singing. I like how you can move an audience with something that you did or created."
Rachel, 15, shared a similar sensibility, saying that she began singing when she was four-years-old, and loved performing in musical theater as a child. She currently participates in her school's drama club and chorus groups.
"I really like how everybody just focuses on you for those few minutes you're up there and really hears what you have say," she said. "It's really great hearing feedback and knowing what they think. I get inspired by the artists who are out there today and seeing them doing it. I also get inspired by a lot of the things in my life being a teenage girl. I like letting people know how I feel. It's really open, and I love it."
In late September and early October, Arrucci and his colleagues auditioned over 100 teenage hopefuls. They sang a mix of show tunes, classics and love ballads, as well as hip-hop, upbeat pop melodies and rock songs. The competition was narrowed to 25 frontrunners who will participate in the Nov. 24 showcase.
Every competitor will sing one song, which will be judged by a group of panelists. The final five will be chosen to reprise the stage for another song. The judges will crown the best performer as the 2012 Westchester Teen Idol.
The winner will walk away with approximately $2,000 in prizes, including $500 in cash. White Plains' Sam Ash music store and Elmsford's Pocket Songs karaoke store are donating gift certificates. The prize also includes music lessons and professional headshots.
Past Westchester Teen Idol winners have continued on to pursue successful paths. One former winner received a full scholarship to the Berkley School of Music in Boston, while another works as a performer at Florida's Disney Parks.
Erynn and Rachel hope to attend performing arts colleges after high school. Their dream, perhaps in 10 years, is to be touring and writing their own music.
"If I could tell stories through music, it would be nice," Erynn said. "Some people write poetry. I just write poetry with music and lyrics and instruments."
Westchester Teen Idol will take place at Irvington Town Hall, located at 85 Main St. The event begins at 7:30 p.m., and tickets cost $25. For more information, call 914-591-6602, or visit www.irvingtontheater.com or www.pmtproductions.org.
 By Natalia Baage-Lord