Local Restaurateur Feeds Workers on FEMA Storm Duty
We are part of The Trust Project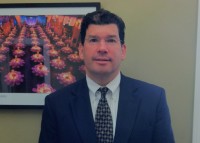 While most of us were preparing to hunker down as weather indicators confirmed Hurricane Sandy was going to make landfall in the New York Metropolitan area, Sam's of Gedney Way owner Peter Herrero was on alert and making preparations to travel directly into the storm.
Herrero is called in whenever FEMA declares a disaster area. It doesn't matter that the storm may be hitting him at home as well; when he's called he has to go.
"I received the call that we were on 48-hour notice on the Sunday before the storm was expected to reach White Plains," Herrero told The White Plains Examiner in a recent interview. "I called my staff to put them on notice as well and then began making preparations."
By Tuesday Herrero was on 24-hour activation and expected to arrive at Mays Landing located near Atlantic City, New Jersey, with enough prepared food to feed 1,000 utility workers for 24 hours. And that was just the first day of a seven-day job that required teams working in shifts around the clock and access to food supplies in a storm torn area.
This is the second time Herrero has been called out. He also worked during Hurricane Irene.
The job Herrero does is for the Potomac Electric Power Company, often referred to as PepCo, which serves Washington D.C. and surrounding areas. When FEMA is called into an area they act as a back-up to the utility companies and strategic operations commence to begin clearing and repairing storm-damaged areas.
Herrero partners with High Point Catering in the Potomac area and they get their supplies from Sysco, which has a significant supply and distribution capacity to provide Herrero with the food he needs to prepare breakfast, lunch and dinner each day the emergency lasts.
The power was going on and off at home in Greenburgh and Sam's Restaurant in White Plains lost power for several days. That did not deter Herrero who packed up a large truck with convection ovens, refrigerator units and cooking supplies, plus pre-cooked meals for the first day.
"It took us five hours to get down to our location," Herrero said. Because he has the contract with PepCo and is FEMA backed, he can travel on closed roads and across bridges when necessary. "It was not a good situation," he maintained.
"We prepared breakfast each morning for the 1,000 utility workers who were coming in from all over the country. They then received a bag lunch complete with fresh fruit and a drink, plus a snack. In the evening they were fed a hot meal," Herrero explained. Whatever food is left over is gathered up and delivered to nearby emergency shelters, something Herrero also does with any leftovers at his White Plains restaurant. That food goes daily to Grace Church's Open Arms shelter.
The process of feeding such a large group went on for 24 hours in two shifts. "We had a 2 a.m. to 2 p.m. shift and another from 9 a.m. to 9 p.m. The food is ordered in advance for two to three days at a time. Whatever we ordered by noon on one day we received by noon the next day. Sysco was very reliable, but sometimes what you order is not what you get and you have to make due," Herrero said.
Herrero is the founder and general manager of  New York Hospitality Group which includes Sam's of Gedney Way restaurant, and Caperberry Events and The Great American BBQ Company catering groups. Having become well-known in the hospitality industry, Herrero often gives seminars for large catering organizations and found out about the FEMA contract through that association.
Herrero felt that the aftermath of Hurricane Sandy was handled very well. His perspective on the ground, gives him a perspective many of us do not have.
Aware that Con Edison had prepared a similar site to the one Peter was working in New Jersey at Rye Playland, Herrero said he hoped he could work with Con Ed in that capacity next year. The words were out of his mouth before he realized that, yes, these super storms seem to have become an annual occurrence and one that we all should prepare for well in advance.