Local Relief Efforts for Puerto Rico Need Your Help
We are part of The Trust Project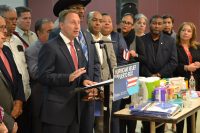 As the humanitarian crisis continues to unfold in areas devastated by Hurricane Maria, community groups are responding with relief efforts.
A "Hurricane Relief for Puerto Rico" drive across Westchester County is expected to continue until the end of November.
Monetary donations for the purchase of essential supplies and/or the shipping of those supplies may be made byChase Quick Pay or via PayPal to PRelief@westchestergov.com or via PayPal to: PRRelief@westchestergov.com.
Supplies being sought include: baby formula, baby wipes, blankets, bottled water, canned and dry pet food, canned milk, canned non-perishable foods, diapers, dish soap, extension cords, First-aid kits, garbage bags, ground fault protectors, hand sanitizer, laundry detergent, mosquito repellant, pain relief medicine, pillows, ropes, safety glasses, stomach and diarrhea relief medicine, towels, tarps, work gloves.
Collection bins will be located at the following county offices in White Plains during regular business hours: Westchester County Office Building, 148 Martine Ave.; DSS Central Office, 112 E. Post Rd.; White Plains District Office, 85 Court St.; Westchester County Center, 198 Central Avenue.
New York Gov. Andrew Cuomo encourages New Yorkers to support the people of Puerto Rico by volunteering at, or contributing to: American Red Cross – www.redcross.org; United Way – www.unitedway.org; Catholic Charities – catholiccharitiesusa.org; Salvation Army – www.salvationarmy.org; Hispanic Federation – www.hispanicfederation.org/unidos (select "Hurricane Relief Effort" from the drop-down menu).
In addition, at the request of Puerto Rican Gov. Rosselló, Gov. Cuomo encourages donations to United for Puerto Rico – Together Changing Paths, a 501(c)3 organization, operating under the guidance of the First Lady of Puerto Rico Beatriz Rosselló.
Phelps Hospital, 701 North Broadway, Sleepy Hollow, is sponsoring a collection effort for Puerto Rico. Only the following items will be accepted. All items must be unopened, within expiration date and in their original packaging: diapers (infant, toddlers, adults), baby wipes, baby formula, cases of water, nutritional supplements (e.g., Ensure), protein bars, feminine hygiene products (pads and tampons), personal hygiene/care items (shampoo, body wash, deodorant, powder), hand sanitizer, oral hygiene items (toothbrush, toothpaste), Clorox and cleaning supplies, paper towels, toilet paper, garbage bags (large), light sources (flashlight, lanterns), batteries (sizes AA, C and D). Items will be accepted in collection boxes through Saturday, Oct. 7 at Phelps Hospital, main entrance, and farmers markets in Pleasantville, TASH and Chappaqua.
The First Community Church of the Nazarene, 2101 Saw Mill River Rd., Greenburgh, has a relief effort ongoing for relatives on Dominica, a Caribbean island that was destroyed during the recent hurricane. The church will collect donations daily at the church from 11 a.m. to 5 p.m.
Preferred donations include water, sanitizer, canned goods, tarpaulin, toilet paper, feminine products, baby food/formula, baby and adult pampers, sleeping cots/new bedding, toothbrushes and toothpaste. The church is coordinating the effort with the Dominica Consulate General and the Dominica Permanent Mission in New York (counsulateofdominica@gmail.com or 212 599 8478).