Local PR Star Publishes Book to Help Teens Navigate the Digital World
News Based on facts, either observed and verified directly by the reporter, or reported and verified from knowledgeable sources.
We are part of The Trust Project
To say that Stacey Cohen knows a thing or two about marketing, branding and communications would be just a bit of an understatement. The Westchester resident is an award-winning public relations professional and the founder and CEO of Co-Communications, a PR, marketing and design agency headquartered in White Plains with offices in Manhattan and Hartford.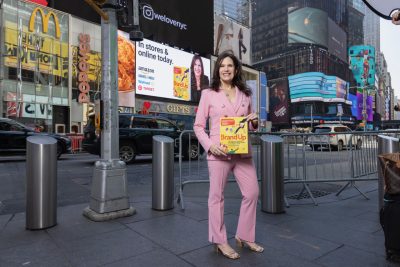 Cohen has used her experience and expertise to reach out through a variety of platforms to help individuals beyond her firm's clientele with their branding and marketing needs – from writing personal coaching pieces for outlets ranging from HuffPost to Entrepreneur magazine.
Earlier this month, Cohen published her first book, "Brand Up: The Ultimate Playbook for College & Career Success in the Digital World," to help teens develop strategies and tools to succeed in high school, college and their first job. From Cohen's perspective, all of those roads lead back to one crucial destination – one's own personal brand.
Barbara Corcoran from ABC's "Shark Tank" praised the book as a must-read "if you want to excel at networking and entrepreneurship in the classroom and in the boardroom."
We sat down with Cohen to dish about the book, her motivations for writing it and what's next on her agenda.
How did the idea and inspiration for the book come about?
My daughter was a junior in high school, and I had an epiphany about the importance of marketing yourself and putting your best foot online during the college admissions process. Google has indeed become the new resume, and it's become essential to develop the personal branding muscle early.
What were your goals and intentions with the book? And who is your target audience?
I am targeting parents, educators, guidance counselors and educational consultants. The end user of the playbook is high school students. I wrote this book to equip teens – regardless of zip code, race, ethnicity, gender, disability, socioeconomic status, sexual orientation and learning differences – with strategies and tools to stand out amongst their peers and be prepared for life. I will conduct live sessions for teens/parents and donate 'Brand Up' books to youth organizations.
How would you summarize the book's overarching message?
With our lives playing out online and competition growing more global, personal branding can make all the difference. Personal branding matters in college admissions, in nabbing a scholarship or job, internship. While college admissions may be the first major personal branding milestone, it's hardly the last and holds true throughout your career. Being college-ready is also about having life skills. 'Brand Up' also has an emphasis on developing real-world skills (networking, interviewing, entrepreneurship, empathy) for a bright future.
How much is the book geared towards the students versus the parents?
The core of 'Brand Up' is its focus on the high school years, where personal branding and digital savvy truly become imperative. It helps teens gain an advantage and stand out from other applicants in the highly-competitive college admissions and job market. The book is also a must-read for parents who are feeling more anxious than ever about how to approach college readiness, particularly with declining college acceptance rates.
Why is personal branding important for teens?
Personal branding is no longer a luxury; it's a requirement. Personal branding is not about me, me, me. It's about the value that you bring to others. It's your passions, expertise, accomplishments and values. College admissions are no longer based solely on test scores, transcripts and essays. It's become clear what teens post online influences the college admissions process. The majority of admissions officers monitor social media applicants and college coaches mine players' social media accounts looking for bombshells. Those who tend to their digital footprint early exponentially increase their likelihood of success from college admissions to that all-important first job.
Were there any specific "horror stories" with teens or students that you knew about which contributed to your motivation to cover this ground?
Yes! Ten incoming Harvard students had their admission to Harvard revoked in 2017 because of offensive Facebook posts. These brilliant students were able to make Harvard's 4.59 percent acceptance rate, but lost it all because of poor social media behavior. Many stories like this play out in the media. When teens don't use good judgment, the consequences for their brand – and future – are dire.
What are the steps needed to build a personal brand?
I like to call it Personal Branding in 3D. It involves three phases:
Discovery: Conduct a self-audit to identify your superpower(s) and develop a strong point of difference to stand out in a sea of sameness.
Development: Requires building a powerful portfolio to showcase your value. Ensure your Instagram, LI, Facebook, Twitter and other profiles are current and harmonized. Make every word and photo count.
Delivery:Think of yourself as your own news channel: share achievements and volunteer work on LinkedIn. I recommend teens establish a LinkedIn profile by age 16. Consider creating a personal website or blog. And always remember the simple stuff: a firm handshake, thank you and prompt replies to e-mails.
It's essential for teens to use social media to their advantage and engage with colleges' social media. High school students need to follow their dream college accounts and show their love by liking their content and making themselves regularly seen. In addition, connecting with college admissions officers, professors, department heads and alumni is a must.
As we progress in our careers, we must refine our personal brand and be proactive about managing our online presence and leverage social media to achieve academic and career goals.
What do you hope the book will accomplish for people who read it and put your thoughts and ideas into practice?
I believe 'Brand Up' is a game changer for teens to stand out in our increasingly connected, cluttered and competitive world. The book will help with college admissions, getting a job, moving into the world of trade or entrepreneurship or any other goals. Regardless of a teen's path in life, I hope that 'Brand Up' will bring out their inner champion to achieve career and life success by taking control of their academic futures and career.
What's been the reaction to the book so far?
Extremely positive. I receive many comments from parents, such as "Where was this gem when my kids were in high school?" The original release date was May 23, and it was moved up to Apr. 4 when the publisher learned that Barnes & Noble/B & N College wanted to stock my book in 25 of their top stores. I'm thrilled to share that 'Brand Up' has ranked number one in multiple categories (career development, college admissions) on Amazon multiple times since it went on pre-sell in December. Parents especially like one chapter called Winning the College Admissions Game, which includes 40 college admission experts weighing in on the most critical factors in admission success.
Do you think you have other books in you?
Yes! 'Brand Up' is meant to be a book series. The publisher and I are already planning for a second 'Brand Up' book release in 2024 geared to college students and early career individuals.